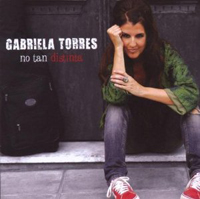 Gabriela Torres
No Tan Distinta (World Village, 2009)
Many years have passed since I heard The Gotan Project that blended electronica with nuevo tango. I had forgotten about the Argentine-European ensemble until I slipped Argentine guitarist-vocalist-composer Gabriela Torres' "no tan distinta" into my player. In fact, the opener, also the titular track, would easily squeeze onto a Gotan Project recording. The following track, "Sali" though possesses a traditional tango feel and reminds me more of tango vocalist Sandra Luna's repertoire.
My impression of Argentine vocalists is that the women vocalists possess a certain boldness that allows them to inhabit a world full of Argentine men vocalists. Similar to Sandra Luna, Gabriela holds her own. Her vocals find a home in the tango, pop and bossa novas that appear throughout the recording. If balancing modern electronic sounds with traditional rhythms and vocal genres is her goal, she succeeds here. And "no tan distinta" recalls some other South American women, such as Brazilian pianist Eliane Elias who in recent years turned her classically-trained ears to pop music and Brazilian classical guitarist Badi Assad who took the same route.
So as a crossover album, this one works out, but I personally find the electronic elements distracting. I would have loved to have heard more traditional percussion and instruments from South America instead of the modern sounds since I prefer acoustic instruments. However, I praise Gabriela's versatile singing talent since she easily slides from one genre to the next and she paints each song with authentic emotions. Also some beautiful guitar and accordion passages grace this collection of songs. And as a standout track, "Esta Apunao" sparkles with heartfelt vocals, that haunting accordion and sparkling arrangement.
Buy the CD:
Author:
PatriciaHerlevi
Patricia Herlevi is a former music journalist turned music researcher. She is especially interested in raising music consciousness. She is looking for an agent and publisher for her book Whole Music (Soul Food for the Mind Body Spirit). She founded and hosts the blog
The Whole Music Experience and has contributed to World Music Central since 2003.