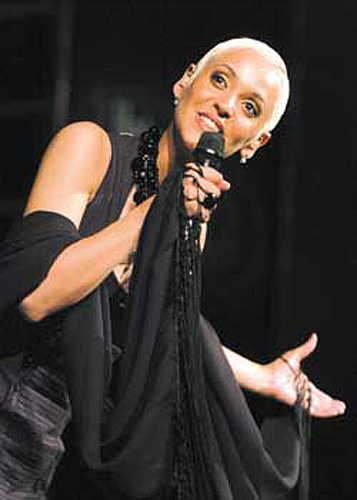 For one night only, Saturday, November 21 of 2009, fado icon Mariza returns to New York City's legendary Carnegie Hall, where she will be joined in Stern Auditorium by special guests, Afro-Peruvian vocalist Eva Ayllón and Afro-Cuban pianist Gonzalo Rubalcaba. For this highly anticipated performance-her only New York area appearance before heading out on an extensive international tour-Mariza will spotlight songs from her recent CD release Terra (Earth) (Four Quarters Records).
Since her debut less than a decade ago, Mariza has established herself as nothing less than a fado ambassador, by touring frequently and making herself available to the mainstream media, including Hispanic markets-the first fado artist to do so. Following Fado em Mim (2001), Fado Curvo (2003), Transparente (2005) and Concerto em Lisboa (2006), plus the DVD Live in London (2004)-her fifth album Terra (Earth) is the Latin Grammy-nominated singer's most exquisite and far-reaching work to date, expanding her sonic palette and the very definition of fado in the process-the album even ends with an English-language rendition of the Charlie Chaplin-penned standard "Smile."
By its very nature, fado is an expressive music fraught with drama, sadness, yearning and joy, and the magnetic Mariza innately understands and projects those qualities both on stage and on her much-loved recordings. The word fado literally means fate, and it has been Mariza's fate to uphold the music's rich traditions while simultaneously bringing Portugal's signature song form into the present.
Born in Mozambique, Mariza Reis Nunes grew up in Lisbon among the fado tavernas, steeped in the cultural and historical atmosphere that gave birth to the music centuries ago. She began singing at the age of five and credits her own mixed African-Portuguese heritage with inspiring her unique contemporary slant on the style. A striking figure with a commanding stage presence, distinctive style and a voice that can only be described as a gift, Mariza has emerged as a fadista queen for the 21st century.
When Mariza takes the stage at Carnegie Hall, where she last performed to a sold-out audience in 2007, there will be no doubt among those lucky enough to be in attendance that they are witnessing a gifted, unique artist who draws together not only past and present but a number of diverse genres, fusing them all with fado into something that is entirely her own.
"After my 2007 tour, I stopped for seven months to record Terra," she says. "This time [Spanish producer/songwriter/guitarist] Javier Limón was the producer, and he brought a different Latin touch to my music. We explored new sounds and added new elements to the repertoire. Now we have a very special drum kit, based on traditional Portuguese drums, and also a piano and trumpet onstage. It will be quite different from two years ago."
Mariza is especially excited to be collaborating at Carnegie Hall with Peruvian singer Eva Ayllón, currently nominated for a Latin Grammy for "Best Folkloric Album", and Gonzalo Rubalcaba, the young Cuban jazz piano virtuoso from an illustrious musical family. The presence of these Latin-American stars will surely add sizzle to what already promises to be a one-of-a-kind program.
No one is looking forward to the event more than Mariza herself. "Since the release of Terra," she says, "I have been touring around the world, from Portugal to Australia. Now I'm coming back to one of my favorite venues in one of my favorite cities. It feels a bit like coming home."
Buy Mariza's recordings:
Saturday, November 21, 2009
Carnegie Hall/Stern Auditorium
57th Street and 7th Avenue
New York, NY
Showtime: 8:00 PM
Tickets $25-95 http://www.carnegiehall.org
Author:
World Music Central News Department
World music news from the editors at World Music Central