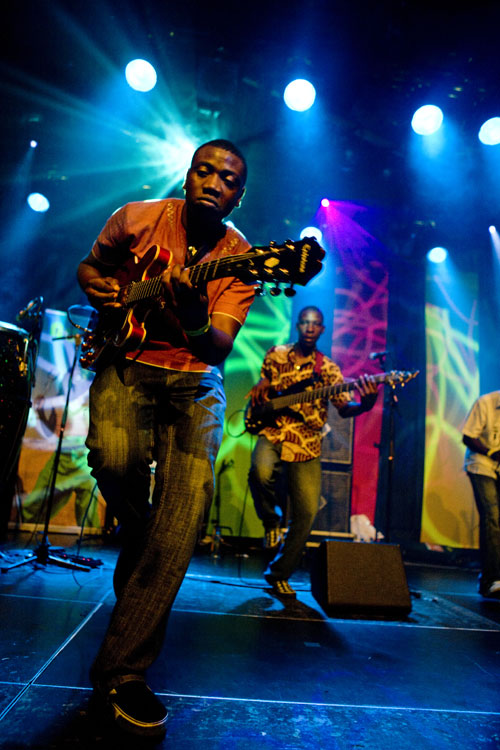 Zimbabwean band Mokoomba will be performing in Brussels for the first time on the 12th of November 2009 at 19:00 at Excantina. On the 24th of June 2009 Mokoomba, winners of the Music Crossroads IRF 2008 were denied the opportunity to tour Europe after visa bureaucracy forced the cancellation of their 8 country European Summer Tour (a tour that was financially supported by the Swedish International Development Agency, the Norwegian Ministry of Foreign Affairs and UNESCO).
Following this incident, Jeunesses Musicales International launched the ACCESS DENIED campaign to raise awareness and gain support around the issue, which received an enormous response, confirming the vast number of music industry professionals impacted by Europe's ever tightening visa regulations.
"The mobility of foreign artists to and within the EU has become an industry wide issue that sees more and more professional performers denied entry to Europe every year," says Blasko Smilevski, Secretary General of Jeunesses Musicales International. "This is emotionally, economically and socially damaging for the artists and organizations involved, as well as for the European public who are deprived of the opportunity to receive them.
Although the topic has been brought up at several recent meetings in Europe and Africa, little has been done to constructively and actively further this process with those politically responsible. In order to create a more open Europe, the cultural sector needs a strong, unified and coherent voice to engage politicians and legislators with.
Today, through the incredible support of many extraordinary individuals and organizations, Mokoomba is finally in Europe. They will be performing in Brussels for one night only, an evening to celebrate struggle in the face of adversity and the hope of change. This event offers itself as an initial step in the formation of a cultural coalition, to concretely tackle issues around mobility and culture. We hope that you will join us on the 12th in solidarity and support for what promises to be a great evening of Zimbabwean music and culture."
Winners of the Music Crossroads InterRegional Festival (IRF) 2008 Mokoomba bring an electrified blend of Afro-fusion and tantalizing traditional Tonga music. The name Mokoomba stems from the deep respect that the Tonga people have for the Zambezi River and for the vibrant life that it brings to their music and culture. They are a six-piece band singing in Tonga (one of the lesser known languages and cultures of Zimbabwe), fusing with it: keyboard, rhythm and bass guitar and a dynamic showcase of Tonga made instruments like Tonga Jemba (drums), whistle and bell as well as a host of other indigenous instruments. Mokoomba play a type of music that is distinct to the Tonga people of Zimbabwe and combine it with a welcomed West African flair.
Doors Open: 19:00. Food Served from 19:30. Performance: 21:00
Venue:
Excantina (Galician Cultural Center)
Porte de Hal/Hallepoort
Rue Vlogaertstraat 4
1060 Saint-Gilles/Sint Gillis
Brussels
More at www.myspace.com/mokoomba
Author:
World Music Central News Department
World music news from the editors at World Music Central