Planetwize announced the release of 'The Best of the Black President' on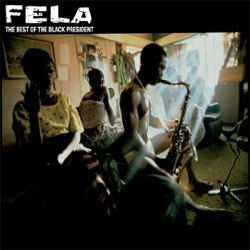 the Actiontrax music platform, where every album supports a social or environmental project. NextAid, a Planetwize non-profit partner that works with children in Africa who have been orphaned by AIDS, will receive a portion of the proceeds from every digital download from the catalog of Fela Kuti sold on Planetwize.
Fela Kuti was a Nigerian multi-instrumentalist musician and composer, pioneer of afrobeat music, human rights activist, and political maverick. He has been compared to Bob Marley and Bob Dylan for the impact and importance of his music on society. Fela sang in Pidgin English so that his music could be enjoyed all over Africa, and he was seen as a hero in struggling communities across the continent. He died in 1997.
"We are honored to offer the Fela Files on Planetwize, and we think the father of Afrobeat would approve of the work of NextAid," said Dan Porras, Founder and CEO of Planetwize. "We work with bands and non-profits that strive to have a true, positive impact in the world, and we are happy to help Fela's music live on. The Fela Files on Planetwize are higher quality than other retail sites – at 320 kbps – and you get to support a good cause at the same price."
NextAid's mission is to improve the lives of children and youth in Africa by promoting and implementing sustainable solutions. Through music events and public education initiatives, NextAid raises awareness and funds for community-based projects and grassroots organizations in Africa. NextAid provides empowering opportunities for concerned individuals to make a tangible difference. NextAid believes that a holistic approach in addressing a spectrum of challenges and developing integrated solutions is the best formula for creating real and lasting change.
Author:
World Music Central News Department
World music news from the editors at World Music Central