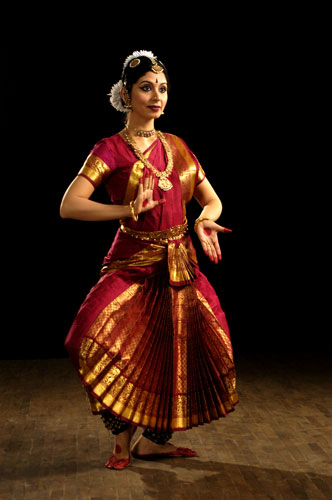 Priya Venkataraman, Bharatanatyam danseuse, will perform at Shakuntalam Theatre, Pragati Maidan, New Delhi at 6:30 pm on November 17th 2009. She is supported on Nattuvangam by A. Lakshman, Vocal: Sudha Raghuraman, Mridangam: Thanjavur Keshavan and Flute: G. Raghuraman. This dance recital is part of the cultural events organized by ITPO, the premier trade promotion agency of the Ministry of Commerce & Industry, Govt. of India and is committed to showcase excellence achieved by the country in diverse fields especially trade and commerce.
Priya Venkataraman is a well known exponent of Bharatanatyam classical dance, based in New Delhi. Priya had her initial training under Mrs. Saroja Vaidyanathan and later under Mrs. Kanaka Srinivasan and Ms. Leela Samson. Presently she is working with Mr. A. Lakshman.
Priya has received critical acclaim for her performances in India and abroad. A recipient of two prestigious fellowships from Illinois Arts Council, she has also received six master-teacher awards for training students in this ancient art form. A multi-faceted personality, Priya is also a sought after anchor for stage and television shows.
Detailed press clippings and photographs are available in www.priyavenkataraman.com.
Some of Priya's other season concerts are:
December 23rd
Sri Kartik Fine Arts, 6 pm, Chennai
January 12th, 2010
Sri Krishna Gana Sabha, 6 pm, Chennai
January 13th, 2010
Sri Brahma Gana Sabha, 6 pm, Chennai
All are welcome for the performance at the Shakuntalam theatre and may collect pass at
Pragati Bhawan, Pragati Maidan, New Delhi-110 001,
E-mail : info@itpo-online.com