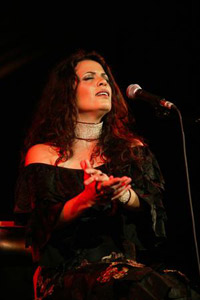 Renowned Israeli singer Yasmin Levy will be performing at Peter Norton Symphony Space, Broadway at 95th Street, New York city on Saturday, November 7, 2009 at 8:30 PM. Yasmin Levy, a rising star in world music circles, has mesmerized audiences around the world with her deeply spiritual and moving renditions of songs from her Judeo-Spanish heritage. Following in the footsteps of her eminent musicologist father Yitzhak Levy, she is a champion of Ladino, the ancient language of the Sephardic Jews that is now facing extinction.
Her program, which includes selections from her new CD Mano Suave (4Q Records), features Sephardic classics, as well as self-penned songs inspired by her heritage and experiences. She is accompanied by Yechiel Hasson (guitar), Vardan Hovanissian (flute, duduk, ney, clarinet), Miles Danso (double bass), and Ishay Amir (percussion).
Ladino songs date back to the late 15th century when the Sephardic Jews were expelled from the Iberian peninsula (Spain and Portugal). The Sephardim settled primarily in Morocco, Greece, and Turkey, but also relocated to other parts of the Balkans and the Levant (Egypt, Syria and Lebanon), adopting the melodies, rhythms, and languages found in their new countries.
Sephardic songs encompass ballads, romances and wedding songs that were passed on orally and sung originally in various Iberian languages (Castilian, Catalan, Galician, etc.), as well as Hebrew. All of the Romance languages and dialects became solidified in later years into a written language known today as Ladino, with Castilian Spanish being the primary component. Today Ladino has less than 200,000 speakers worldwide and is recognized by UNESCO as one of the world's endangered languages.
Yasmin Levy was born in the Bakaa neighborhood of Jerusalem in 1975. She was deeply influenced by her Turkish-born father, whose life's work was devoted to the collection and preservation of the songs of Sephardic Jews. During his lifetime he published four books containing Sephardic romances and another 10 volumes of liturgical songs. Yasmin's repertoire includes many songs that were catalogued by her father.
She made her first public performance at the age of 21 as a guest in a concert given by her mother Kochava, and in 2002 she made her international debut at WOMEX. Since then, she has toured Europe; appeared at WOMAD festivals in Australia, Singapore, New Zealand, Spain, and the UK; and toured Australia, culminating in a sold-out performance at the Sydney Opera House.
This fall she is touring the US for the first time; she had previously performed in New York in 2005, appearing at Zankel Hall at Carnegie Hall.
Her first album Romance and Yasmin focused on Ladino music and Turkish influences. In her second album, La Juderia, Yasmin continued her work with the Ladino tradition, but began to experiment with flamenco influences that date back to her residence in Spain during 2002.
Her third album Mano Suave (4Q Records) marked a mature return to her Ladino roots, and was nominated for Holland's prestigious Edison Award (the Dutch equivalent of the Grammy).
She has been nominated three times for BBC Radio 3 World Music Awards. In 2006, she was presented with the Anna Lindh Award for promoting cross-cultural dialogue for her work with musicians covering three cultures and her connection with the history of Spain.
In 2008, she was named Goodwill Ambassador for Children of Peace, a UK-based charity fighting to alleviate the plight of all children caught up in the decades-old Middle East crisis.
The program is supported, in part, by public funds provided by the New York State Council for the Arts, a State agency, and the New York City Department of Cultural Affairs, in partnership with the City Council. Additional support is provided by American Express.
Buy Yasmin levy's recordings:
Peter Norton Symphony Space, Broadway at 95th Street, NYC
$32; students with college ID $18 Box office (212) 864-5400
Info/tickets: (212) 545-7536 worldmusicinstitute.org
Author:
World Music Central News Department
World music news from the editors at World Music Central