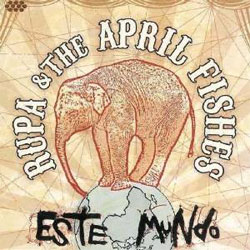 Rupa and the April Fishes
Este Mundo (Cumbancha, 2009)
Back in 2008, I waxed poetic about the Bay Area musical group Rupa and the April Fishes and their first release Extraordinary Rendition. Well, they're back with a new collection of CDs on Este Mundo on the Cumbancha label, set for release on October 27. Far from resting on their considerable laurels, or the boatloads of fawning media and fans, Rupa and the April Fishes find inspiration in the sweet and sour of life's journey on Este Mundo, especially the trials of the migrante, to whom the CD is dedicated. Leaping headlong into their musical melange crafted out of Gypsy swing, French chanson, Indian ragas and Latin cumbia, Rupa and the April Fishes express unadulterated joie de vive.
Taking a listening journey with Rupa and the April Fishes is like running away to live with the Gypsies – you never know what to expect, but the journey is bound to be filled with vivid colors, unexpected delights and adventure. Este Mundo is indeed full of adventure. From the opening track "La Frontera," a poignant instrumental through to the closing "Espero La Luna," Rupa and the April Fishes pluck out the human condition from melancholia to love to humor to the downright soulfulness. It's a wildly raucous ride.
Producing Este Mundo and writing all but two of the tracks, Rupa Marya is joined by the usual suspects percussionist Aaron Kierbel, accordion and bandoneon player Isabel Douglass, bassist Safa Shokrai, cellist Ed Baskerville, trumpeter Marcus Cohen and Rupa herself on guitar, glockenspiel and vocals. Este Mundo also sports some first-class special guests like Ara Anderson, Boots Riley and Djordje Stijepovic.
Tracks like the smoothly sassy "C'est Moi," or the frenzied "Por La Frontera" with Ara Anderson on sousaphone and wineglass and Jorge Molina on berimbao and chanting, or the reggae rhythm found on "La Linea" with bassist Djordje Stijepovic are just the fix Rupa and April Fishes fans needed. Ms. Marya go straight for the throat with emotional tinged vocals that speak to both love and sorrow.
The dizzy whirlwind that is "Culpa de la Luna" is savagely good. Mr. Anderson and Mr. Stijepovic lend their expertise to this track but it's Mr. Anderson's trumpet solo on the slickly European feel of "L' Èléphant that shouldn't be missed. Dipping into a Latin feel, "Soledad" gets gritty with a rap section offered by Boots Riley from the group The Coup. "Soy Payaso" adds some mystery with tabla by Robin Sukhadia and bansuri flute by Eliyahu Sills before turning into a fantastical party filled with Gypsy heat. Other gems include the quirky "Trouble" and the sweetly simple "La Estrella Caida," as well as the infectiously frenetic "Espero La Luna."
Rupa and the April Fishes have indeed found the wild Gypsy road with Este Mundo. Fresh and fleshy, Este Mundo is extravagantly lush with tight, neat instrumentation and expert musicianship. Kudos go out to engineer and sound mixer Oz Fritz and cover artist and designer Tim O'Malley. Oh, what a ride!
Buy Rupa and the April Fishes
Author:
TJ Nelson
TJ Nelson is a regular CD reviewer and editor at World Music Central. She is also a fiction writer. Check out her latest book, Chasing Athena's Shadow.
Set in Pineboro, North Carolina, Chasing Athena's Shadow follows the adventures of Grace, an adult literacy teacher, as she seeks to solve a long forgotten family mystery. Her charmingly dysfunctional family is of little help in her quest. Along with her best friends, an attractive Mexican teacher and an amiable gay chef, Grace must find the one fading memory that holds the key to why Grace's great-grandmother, Athena, shot her husband on the courthouse steps in 1931.
Traversing the line between the Old South and New South, Grace will have to dig into the past to uncover Athena's true crime.