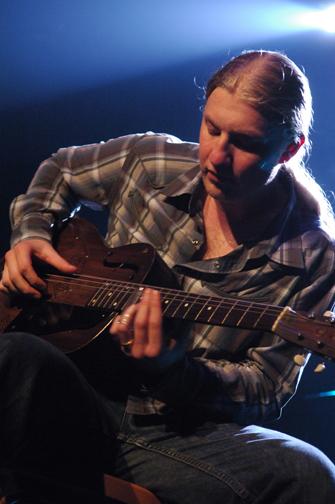 One of the most critically acclaimed American guitarists, Derek Trucks is known for creating original material that integrates blues, soul, jazz and world music to create a completely unique organic sound. The Derek Trucks Band with special guest Th' Bullfrog will perform at 8 p.m. on Friday, October 30, 2009 at the Carolina Theatre in Durham (North Carolina). Tickets are $39, $34 for Star Members, and $35.
Raised in a home filled with music, Derek Trucks' musical career began at the age of nine when he picked up a five dollar acoustic guitar at a yard sale. Within a year he was playing with other musicians around town and soon began touring with his father acting as road manager and chaperone. What had begun as a weekend activity quickly became a life's pursuit.
Trucks has gone on to a storybook guitar career playing with some of the greatest musicians of all time including Eric Clapton, Willie Nelson, Buddy Guy, opening a tour for Carlos Santana and appearing on the cover of Rolling Stone magazine. Trucks has earned praise from such notable musicians as Willie Nelson, who called Trucks, "One of the best guitar players out there," and Eric Clapton who said, "Derek's playing is stunning, unlike anything I'd ever heard before."< The Derek Trucks Band has been a work in progress for over 10 years, blending jazz, rock, blues, Latin, Eastern Indian and other world music into the sound that now defines the group. The band's mission has been to assemble a cast of musicians that share a passion for improvisation and musical exploration and to develop a united musical vision by performing with this core group of players for an extended period of time. The focus of the band is on the art form itself, despite the current trend of image-driven music. The Derek Trucks Band aims to create progressive roots music in an effort to move the art form forward and re-establish substance over hype. Already Free, the band's sixth studio album debuted in January 2009 at #19 on the Billboard Top 200. Band members include Todd Smallie (bass and vocals), Yonrico Scott (drums, percussion and vocals), Kofi Burbridge (keyboards, flute and vocals), Mike Mattison (lead vocals) and Count M'Butu (congas and percussion).
Originally from Princeton, West Virginia, Th' Bullfrog was chased out of New Orleans in 2005 by the ferocious storms of Hurricane Katrina. He moved north to Raleigh and bought half of The Pearl Café where he can be found whipping up delicious healthy shakes, serving bubble tea to the assembled throngs and occasionally singing, dancing and telling rambling humorous stories. Th' Bullfrog was named best solo artist at the Triangle Blues Society's Blues Challenge in June of this year.
Buy Derek Trucks' recordings:
Tickets for The Derek Trucks Band are $39, $34 for Star Members and $35. Tickets are on sale now at the box office or online at www.carolinatheatre.org. Call 919-560-3030 to purchase tickets. Box office hours are weekdays from 11:00 a.m. to 6:00 p.m. and from 6:30 p.m. to 9:00 p.m. and one hour prior to show time.
The Carolina Theatre of Durham is located at 309 W. Morgan Street, Durham, NC 27701. Carolina Theatre of Durham, Inc. is dedicated to presenting vibrant, thought-provoking film and live performances that contribute to the cultural and economic vitality of downtown Durham and the Triangle Region (Durham, Raleigh and Chapel Hill).
Author:
World Music Central News Department
World music news from the editors at World Music Central