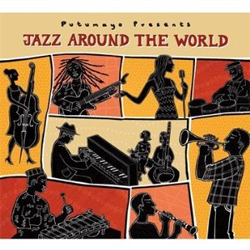 Putumayo's newest release, Jazz Around the World, showcases the powerful influence of jazz on musicians across the globe. Featuring both well established and newer artists performing extraordinary covers and originals, this collection incorporates a wide range of rhythms, instruments and melodies into a constantly evolving genre. With ancestral roots in Africa, jazz flowered into a dynamic force in the United States throughout the 20th century. And, over the years, it has borrowed from, influenced and blended with musical traditions around the world.
On Jazz Around the World, Texas-raised Heather Rigdon delivers a sophisticated performance on "Young and Naïve" which has drawn comparisons to the music of Norah Jones and Diana Krall. Quebecois singer Chantal Chamberland's retro-sounding interpretation of "La Mer" (the French predecessor of the Bobby Darin classic "Beyond the Sea") sounds familiar yet original.
On "Quiéreme Mucho," Paris-based Niuver blends the trova music of her native Cuba with jazz and Brazilian bossa nova. Famed South African trumpeter and fusion master Hugh Masekela offers an uplifting performance on "Open the Door," effortlessly complemented by the beautiful voice of songstress Malaika.
The Kora Jazz Trio and Malian Kélétigui Diabaté, master of the balafon (an African marimba), both contribute exceptional reworkings of classic songs. The Kora Jazz Trio offers a soulful version of the Cuban standard "Chan Chan" while Diabaté, (with Habib Koité & Bamada) gives an African twist to George Gershwin's "Summertime."
The album also features outstanding tracks by Cameroonian singer Blick Bassy, jazz fusion drummer Billy Cobham with Asere, New Zealand Maori musician Kataraina Pipi, Guadalajaran multicultural quartet Sherele and Spanish/Algerian singer Kad.
Putumayo Presents: Jazz Around the World is Putumayo's third jazz collection, joining successful recent releases Latin Jazz and Women of Jazz. It's also the newest addition to Putumayo's best-selling "Around the World" series, which includes Salsa Around the World (400,000 sold), Reggae Around the World (300,000 sold), Blues Around the World (125,000 sold) and Tango Around the World (100,000 sold).
Author:
World Music Central News Department
World music news from the editors at World Music Central