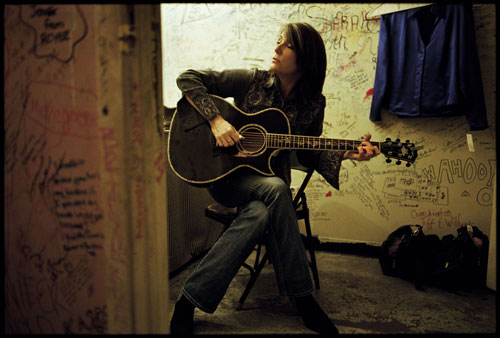 Kathy Mattea will visit UApresents in Tucson (Arizona) November 7th with her Moving Mountains tour, featuring songs from Coal, her most recent release. Mattea's early career established her country music credentials, but recently she has focused on a rootsier sound, especially in the bluegrass Coal. That album was inspired by the 2006 Sago coal mine disaster, and by her own family's history in the mines. Both her parents grew up in coal mining camps, and Coal is rooted in the Appalachian culture of miners and their families.
Mattea's advocacy against mountaintop removal gave Coal a broader context in the effects of coal mining on the environment. In 2006, Mattea became active in promoting efforts to stop global warming through The Climate Project, an international non-profit founded by Nobel Laureate and former United States Vice President Al Gore.
She has won Grammy awards for Best Female Vocal Performance, and Best Southern Gospel, Country Gospel or Bluegrass Gospel Album. Her classic "18 Wheels and A Dozen Roses" was named Single of the Year in the Country Music Awards. But Mattea's interpretations continue to span many genres.
Buy Kathy Mattea's recordings
In North America: Coal. Other titles available: Good News, Time Passes By, Untasted Honey, Right Out of Nowhere, Willow in the Wind, Roses, Love Travels, Lonesome Standard Time, The Innocent Years
In Europe: Coal. Other titles available: Love Travels, Willow in the Wind, Ready for the Storm, Good News, Right Out of Nowhere, Walking Away a Winner, Untasted Honey
Kathy Mattea
Saturday, November 7, 2009 @ 8pm
Centennial Hall, 1020 E. University Blvd on the campus of the UA
Full Price: $40, $30, $20 with Senior, Group and Military discounts
Tickets by phone: (520) 621-3341; TTY: (520) 626-3980
UApresents Box Office Locations:
Centennial Hall, M-F, 10am to 6pm
UA Student Union BookStore, M-F, 10am-5:30pm and Saturday, 12pm-4:30pm
UA Visitor's Center, M-F, 10am-5pm
The "A" Stores at Tucson Mall and Park Place Mall
Monday-Saturday, 10am-9pm and Sunday, 11am-6pm
On the Web: www.uapresents.org
Author:
World Music Central News Department
World music news from the editors at World Music Central