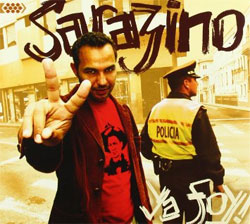 Sarazino
Ya Foy! (Cumbancha, 2009)
Ya Foy!, meaning "no problem" in the West African language of Baule, certainly sums up Sarazino's latest out on the Cumbancha Discovery series. The group's leader, songwriter, singer, producer and musician Lamine Fellah turns out an impossibly delightful mix of Latin grooves, reggae, funk, African pop and Arabic influences with Ya Foy! and scratches out a sound that's keenly bold and infectiously groovy.
Writing all the music on Ya Foy!, Mr. Fellah, along with lyricists like Nadia Ruiz and the Spanish poet Isidro García, travel down a road paved with messages of personal and political freedom. Painting the musical landscape with some razor-sharp reggae grooves and cunningly clever Latin American flash, Ya Foy! is a rip-roaring ride.
Passengers along for the ride include the extraordinary Ecuadorian guitarist Pablo Estrella, keyboardist Francisco Estrazulas, saxophonist Cristina Hidrobo, keyboardist and vocalist Tito Proaño, vocalists Max McLarry, Isidro García, Albert Watson and Max Epstein, as well as keyboards, vocals and programming by Mr. Fellah. Special guests include vocalists Revelino Aguidissou, reggae legend Toots Hibbert and Latin ska/rock master Blanquito Man.
From the opening feel-good track "Iheyo!" with stunning backing vocals by Mr. Aguidissou through to the kick-ass guitar licks of "Ecos de Radio Iquana" and all along the easy grooves of "Noticias del Enemigo" with vocals by Mr. Hibbert, Ya Foy! sizzles with a dance party hipness. Fresh and infectiously good-natured, Ya Foy! ripples with the easy grooves found on tracks like "Desbaratado" and "On Va Tout Changer."
Mr. Estrella's guitar licks run like a bright wire through "Cochabamba" and the heavily Latin spiced "Nadia" against Mr. Aguidissou's shimmering vocals. The funk surrounding Blanquito Man's vocals on "Mundo Babilón 2" and "Fuera de Babilonia," with Mr. Proaño's dishy keyboards, are so good listeners will want to wallow in it.
Ya Foy! is simply scrumptious. Bright and freewheeling, not to mention superbly produced, Sarazino's Ya Foy! is irresistibly danceable.
Buy the CD or MP3 download:
Author:
TJ Nelson
TJ Nelson is a regular CD reviewer and editor at World Music Central. She is also a fiction writer. Check out her latest book, Chasing Athena's Shadow.
Set in Pineboro, North Carolina, Chasing Athena's Shadow follows the adventures of Grace, an adult literacy teacher, as she seeks to solve a long forgotten family mystery. Her charmingly dysfunctional family is of little help in her quest. Along with her best friends, an attractive Mexican teacher and an amiable gay chef, Grace must find the one fading memory that holds the key to why Grace's great-grandmother, Athena, shot her husband on the courthouse steps in 1931.
Traversing the line between the Old South and New South, Grace will have to dig into the past to uncover Athena's true crime.