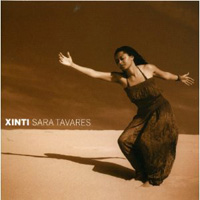 Sara Tavares
Xinti (World Connection FQT-CD-1818, 2009)
After summarizing her career up to that point on last year's Alive in Lisboa CD/DVD set, Portugal's Sara Tavares returns with Xinti, an album title which, if the liner notes are any indication, means "feel." The name is to the point, since this is her most personal- sounding release to date. Her vocals often take on a whispery quality, and matching arrangements emphasize acoustic tones with strolling percussion (lots more brushes than sticks on the drums) and a mood as sweetly melancholic as the Portuguese fado and Cape Verdean morna from which Tavares clearly draws inspiration.
As with her previous studio albums, it's mainly the Cape Verde-loving crowd who will gravitate toward this one, and like those earlier discs there are Brazilian and jazz inflections (check the beautifully sparse vibraphone on "Voz Di Vento") that lend the songs both intricacy and intimacy. Though Tavares' silky voice and unplugged guitar are out front throughout and she adds to the backing vocals and percussion on every track as well, her smallish combo deserves equal mention for caressing the sound with accompaniment that comes more in ripples than waves.
Building slow and easy, songs like "Di Alma" and "Minino" are as pleasing to the ear as Autumn leaves rustling in the wind. Tavares states it clearly on "Bue" (in a brief bit of English) as she intones "I feel good/very nice." The disc, in fact, threatens to get altogether too mellow in its latter stages, but keep your CD player on after the guitar-and-ambience slowness of the supposed last track "Manso": following a stretch of silence, the music re-ignites with the full band and rhythmic glow intact. Xinti is a lovely, low-key listen that'll have you feeling just as good as Tavares obviously did as she was laying it down.
Buy Sara Tavares' recordings:
Author:
Tom Orr
Tom Orr is a California-based writer whose talent and mental stability are of an equally questionable nature. His hobbies include ignoring trends, striking dramatic poses in front of his ever-tolerant wife and watching helplessly as his kids surpass him in all desirable traits.