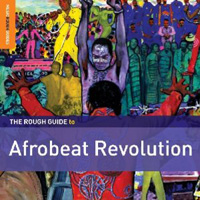 The Rough Guide to Afrobeat Revolution (World Music Network RGNET 1222CD, 2009)
Tony Allen – Secret Agent (World Circuit WCD082, 2009)
I'm not a trend spotter even as far as world music is concerned, so I don't know if the current interest in Afrobeat is still the one that came about following the 1997 death of Fela Kuti or some sort of second wave. Or third, or whatever. One things for sure: there's never been more bands worldwide playing music influenced by Fela, who created Afrobeat in the late '60s by blending African rhythms with funk, soul, jazz and an attitude that was as anti-commercial as it was anti-establishment.
For proof of just how widespread Afrobeat is nowadays, look no further than the fact that World Music Network's new Rough Guide to Afrobeat Revolution includes 11 artists while giving a written shout out to more than twice as many who couldn't be included. But I'm not here to harp about who's absent from this collection. I'd much rather mention that if you're looking for a starting point as to what Afrobeat is all about, this is the best primer I've heard since Shanachie's release Afrobeat… No Go Die! back in 2000.
Kicking off with Ottawa's Souljazz Orchestra blazing through a satisfyingly Fela-esque romp, the disc never falters in its lineup of bands who get the job done whether sticking close to the Kuti formula, sonically leaning a bit closer to African roots or adding contemporary subtleties without losing potency.
Artists from both west (The Afromotive, Albino!, Dennis Ferrer) and east (Lekan Babalola, Fanga, Ruth Tafebe and the Afrorockerz) have a go, and like all good Afrobeat, the grooves are just as essential as the socially conscious lyrics. Militant drums and percussion, funky bass, tart keyboards and guitars and attention-seizing horns are plentiful on this killer collection, which both Afrobeat beginners and veteran listeners will want to savor again and again. And in case that's not enough, you also get a bonus CD of tunes by Kaleta & Zozo Afrobeat, a New York City-based band led by a singer and player who performed with both Fela Kuti and King Sunny Ade in the '80s. Kaleta puts his own innovative spin on Afrobeat, epitomized by a song that's on both the main and bonus platters: "Get Up," a monster jam that takes its cue from the Wailers' "Get Up, Stand Up."
Fela Kuti is credited with creating the style, but fellow Nigerian Tony Allen (who's included on the Rough Guide) was and is the heartbeat of Afrobeat. Allen was the drummer in Kuti's band Koola Lobitos, which began blending jazz and highlife in 1965, a few years before embarking on a shoestring U.S. tour during which Kuti absorbed the soul and funk influences he later folded into the Afrobeat recipe when the group returned to Nigeria and was renamed Africa 70. Kuti ruled the band with an iron fist but had the good sense to allow Allen to compose his own drum parts and generally be the co-architect of the Afrobeat sound.
Allen made albums under his own name both with Africa 70 and after leaving them in 1979, and 2009 finds him still ruling as Africa's reigning master of the drum kit. Drawing from the fundamentals of every sort of music that formed the foundation for Afrobeat and adding the pure syncopation that's been part of African drumming for all time, Allen plays in, out of and around the rhythmic core of a song like nobody else, adding deftly smooth accents, fills and punctuation while keeping a constant sense of forward motion.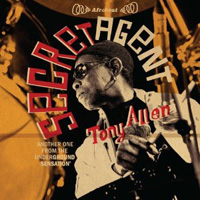 His new release Secret Agent isn't an album only for drummers, though. It's a mighty, sizzling slice of Afrobeat that carries on in a less traditionally African but no less brilliant manner than his 2006 masterwork Lagos No Shaking. Recorded in Lagos and Paris and mixed in London, Secret Agent ("Another One From the Underground Sensation" as the front cover and a passage in the lyrics cryptically proclaim) may well be the defining work of Allen's long career. Never losing its basic Afrobeat sensibility, the album ranges in feel from melancholic to absolutely joyful through exemplary work from a skilled crew of singers and players including keyboardist Fixi, who did the arrangements.
This isn't the vintage Afrobeat Allen helped invent 40 years ago. This is that same Afrobeat brought vibrantly to new life today. The title track, a layered meditation with lead vocals by Allen himself (who composed all the music on the album and clearly does not think only in drummer's terms) signals the start of a disc that just gets bigger and bigger, rolling through the jubilance of "Celebrate," the accordion-laced (!) jauntiness of "Busybody," late night jazz overtones on "Nina Lowo" and so very much more. It's Allen who gets the last word, singing the lead vocal of "Elewon Po" ("Too Many Prisoners") with dry authority as his drums effortlessly, magically steer a song that reprises a melodic hook from his 1975 album Jealousy. I can't recommend Secret Agent highly enough. It would be criminal to keep such a towering album a secret.
Buy the Afrobeat recordings:
Author:
Tom Orr
Tom Orr is a California-based writer whose talent and mental stability are of an equally questionable nature. His hobbies include ignoring trends, striking dramatic poses in front of his ever-tolerant wife and watching helplessly as his kids surpass him in all desirable traits.