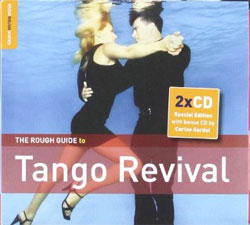 The Rough Guide to Tango Revival features new tango from the clubs and dance floors of Argentina and beyond, where the next generation of musicians distil tango's enduring magic and popularity.
Written in 1917, the opening track 'La Cumparsita', signified the birth of tango. Here Selección Nacional De Tango, who, along with the Orquesta Típica Fernandez Fierro, can be seen as the sound of the new, gutsy, quasi-nationalist Argentina, give it a thorough reworking. Their second live track, 'Adiós Nonino', closes this selection and, sentimental, impetuous, self-obsessed and passionate, the song – like its author, Astor Piazzolla –is an emanation of the soul of porteño (a Buenos Aires resident). Known for their streetwise, gutsy and unpolished sound, Orquesta Típica Fernandez Fierro – who you can explore further on the bonus CD – communicate the conflicting optimism, languor, romance and rancour of Buenos Aires' streets on 'La Madrugada'.
Orquesta Color Tango De Roberto Alvarez, a stylish and vastly experienced orchestra, pay homage to tango legend Osvaldo Pugliese on 'Quejumbroso', which veers between a wonderful hop-and-skip milonga beat and moments of melancholy solo strolling. They return on 'Piqueteros' with an ultra-contemporary theme: Argentina's notorious 'picketers' who block roads and motorways.
One of Buenos Aires' most consistently thrilling ensembles, La Camorra are one of the best contemporary orchestras. Their virtuosity, vim and sheer class are all on display in the slow-paced, darkly magical track 'La Maroma'. Punk-poet-tanguero-classicist Daniel Melingo creates formative new twenty-first-century tango and 'Pequeno Paria' is a spooky dub song about outcasts and gutter-crawlers, remixed by Gotan Project's Christoph H. Müller.
Tango has grown from being a purely Buenos Aires affair into a worldwide phenomenon and this album features bands based all over Europe, whose wide range of approaches is proof of tango's enduring magic and popularity. From the UK, Tango Siempre's rich sound is inflected with jazz-groove and electronica, and 'Triphop & Fugue' is a slow study of melancholy, mania and urban disaffection.
For Romanians tango is a reminder of precommunist days and Oana Cătălina Chiţu, in her gorgeous song 'Zaraza', takes us back there without any of the fug of whingeing nostalgia.
Berlin-based 6 Australes sing of a demonic man-eater who seduces naïve young hombres in her barrio on 'La Lujanera', a song whose vivacious, foot-tapping beat dispel the myth that tango is a gloomy, monochrome affair.
This album also features clean, virtuoso strings-led tango from Hungary's Quartett Escualo, edgy, electronic tango from German-based Argentinean experimentalists Tango Crash and Dutch bandonéon-ist/bandleader Carel Kraayenhof's version of Astor Piazzolla's famous composition 'Libertango'. Taken together, these bands are reviving Argentina's one indigenous cultural expression: el tango.
Buy the CD:
Author:
World Music Central News Department
World music news from the editors at World Music Central