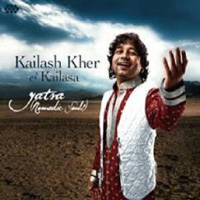 Kailash Kher and Kailasa
Yatra (Nomadic Souls) (Cumbancha CMB-CD-14, 2009)
My office mate, who was born and raised in India and revisits there yearly, smiled and nodded when I showed her this CD. She was a giant step ahead of me in the recognition department, but neither of us got much work done for the next hour as we delighted in the sounds of this first international release by Kailash Kher, who in fairly short order has become an Indian superstar and is presently in the midst of a North American tour that will no doubt significantly raise his profile beyond his native borders.
Kher, the Delhi-born son of a Hindu priest, has a voice that's been rightly compared to that of deceased qawwali icon Nusrat Fateh Ali Khan. Despite growing up in a musical household where his gifts were evident early on, his first stab at employment was in the import/export business. The bottom quickly dropped out of that venture, so Kher made his way to Mumbai to give music a go.
It wasn't long before he found success as a playback and jingle singer, but he was clearly cut out for better things. Teaming with musician brothers Naresh and Paresh Kamath (providers of guitar, bass, keyboards and vocals as well as knowing a thing or two about composing, producing and arranging), Kher took his vocal chops well beyond the worlds of Bollywood and advertising to create music that borrows from a range of Indian traditional styles and tosses in a good many sounds and instruments found elsewhere.
From the almost Celtic whirl of the opening "Kaise Main Kahoon" and the reggae-accented beats of "Dilruba" and "Turiya Turiya" to the low-key starkness of "Teri Deewani" and the pop-with-substance bounce that propels "Tauba Tauba" and "Rang Rang Ma," Kher and Kailasa (Kher's versatile backing band helmed by the Kamath brothers) have put together a defining album of modern Indian music.
Yatra is truly the work of the "Nomadic Souls" its title bespeaks, traveling regions of Rajasthani folk, Sufi devotion, Hindu allegories and urban dance floors that add up to a set of consistently compelling and charming songs. Recommended.
Buy Kailash Kher's CD or MP3 download:
Author:
Tom Orr
Tom Orr is a California-based writer whose talent and mental stability are of an equally questionable nature. His hobbies include ignoring trends, striking dramatic poses in front of his ever-tolerant wife and watching helplessly as his kids surpass him in all desirable traits.