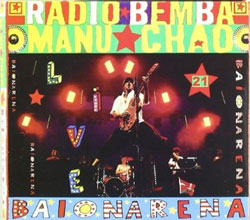 Manu Chao will release Baionarena (Nacional Records in the USA), a double live album/DVD set, on November 17th. The album was recorded at the prestigious Roman Amphitheatre in Bayonne, France. Highlights among the 33 tracks include classics like "Clandestino," "La Vida Tombola," "Mala Vida," "Desaparecido" and "Bienvenida A Tijuana." The new live album is the follow-up to the Latin Grammy-winning studio album La Radiolina,' which has been certified Latin Gold and hit number one on the Billboard Latin album chart.
The DVD features the concert in its entirety as well as bonus material, including all the music videos from 'La Radiolina' and a 30-minute behind-the-scenes video tour diary entitled "Carnet de Voyage." The diary follows Manu Chao and Radio Bemba along their adventures across the globe, from Austin City Limits to Glastonbury and Mexico to Russia.
'Baionarena' takes the spirit and success of 'La Radiolina' to an entirely new dimension as explosive energy is shared between the band and thousands of fans. 'La Radiolina' has now sold more than a million copies worldwide, taking Manu Chao on a two-year world tour. In that time, Manu has performed in front of several million people, including an extensive sold-out U.S. tour and more than 100 festival headline dates from Russia to Coachella and Bonnaroo.
Manu Chao has been on the road for over 20 years, from one country to the other, from town to town, stage to stage. Today with Radio Bemba, yesterday with Mano Negra. The memories are endless – from The Pigalle Tour with shows that often ended on the Boulevard de Clichy in Paris to the Cargo '92 Tour, in which the band climbed aboard a ship to tour Latin American port cities. There was Venezuela during a military coup, Cuba and their political police, Rio de Janiero with Jello Biafra. The epic touring adventures go on and on.
In other recent news, Manu Chao has released "La Colifata," a benefit project. La Colifata is a unique Buenos Aires-based radio station, broadcast from a psychiatric hospital. Manu has been working with La Colifata for five years and recently produced an album recorded by the station's members. La Colifata was created in 1991 as a unique establishment that uses media (radio/TV) as therapeutic treatment, somewhere between clinical and social treatment. It is a resource between the clinical and external worlds that allows Los Colifatos to recreate the social link with people living outside the hospital.
Buy Manu Chao's recordings:
In North America: Baionarena, Clandestino, La Radiolina, Radio Bemba Sound System, Politik Kills Remix EP, Proxima Estacion: Esperanza, Radio Bemba Sound System Live, Baionarena (Limited Edition DVD-style packaging with photobook, import)
In Europe: Baionarena Digipack, La Radiolina, Proxima Estacion: Esperanza,
La Colifata" benefit project, now available for a "pay what you want" donation at VivalaColifata.org.
'Baionarena' Track list:
Disc 1
1. Panik, Panik
2. El Hoyo
3. Peligro
4. Casa Babylon
5. Tumba
6. Mr. Bobby
7. La Primavera
8. Radio Bemba
9. Bienvenida a Tijuana
10. El Viento
11. The Monkey
12. Clandestino
13. Desaparecido
14. Rumba de Barcelona
15. La Despedida / Mentira
Disc 2
1. Rainin' in Paradize
2. A Cosa
3. La Vacaloca
4. Hamburger Fields / Merry Blues
5. Tristeza Maleza
6. Dia Luna, Dia Pena
7. Machine Gun
8. Volver, Volver
9. Radio Bemba / El Dorado 1997
10. Mala Vida
11. Sidi H'bibi
12. Radio Bembo
13. Bobby Fuerza / Mr. Bobby
14. Me Quedo Contigo [Si Me Das a Elegir]
15. La Vida Tombola
16. L'hiver Est La
17. Crev' La Vie
18. Pinocchio [Viaggio In Groppa Al Tonno]
Author:
World Music Central News Department
World music news from the editors at World Music Central