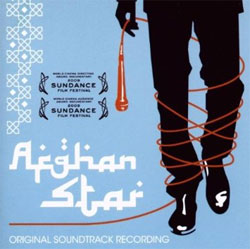 Various Artists
Afghan Star (Silver Screen Records, 2009)
The soundtrack to the film Afghan Star, a documentary following four contestants participating in Afghanistan's television's talent show series called "Afghan Star," has propelled the idea of democracy much further than the country's recent election with the television series garnering more than 11 million viewers during the final show and the release of a wholly Afghan collection of song with the release of the soundtrack.
Shifting from the poignant to sassy pop numbers, Afghan Star discovers the musical soul still found in the Afghan heart, a true victory considering music throughout Afghanistan was banned from 1996-2001 and many musicians risked their lives playing, composing or just secreting music away for a brighter day.
The soundtrack Afghan Star offers fans achingly poignant tracks on "Chashem Ba Rahat Dil Ba Yadat" and "Baaz Aamady Al Jaane Man" with Ahmad Zahir's rich vocals and intricately lacy compositions and hipper, pop tracks like Jawid Sharif's "Amelaket Ba Gardan" and the brightly colored "Police" by Wajiha. Stunning vocals open and close Arash Howaida's "Laila" before giving way to a sharply mesmerizing rap performance set to a kick ass Afghani beat. "Sang Baaraanam Makun" by Nazir Khora blushes lovely with a male and female singing duo, while the retro 1980s pop sound on Wajiha's "I Used to Love You" turns everything you thought you knew about Afghans upside down.
Simon Russell's brilliant and lonely instrumental landscapes created on "Meeting" and "Homecoming" braced against Tahir Showquee's infectious "Yaar Bewafa" simply works, capturing that vastness of land and space that exists in between cities. It's a bit like looking out onto the beauty of the countryside of Afghanistan and turning the ear to hear a bit of what your bus driver is listening to.
Equally dishy and delightful are the whirlwind of colors on Naghma's "Mata Chal Ne Raze" and Rafi Naabzada and Hameed Sakhizada's "Sabza Ba Naaz Mea Ayad." Closing Afghan Star is Arash Howaida's pounding, brassy extravaganza "Alah Alah."
Beyond just the sheer delight at hearing music once again coming from Afghanistan, Afghan Star is a reminder that it's hard to fight if one is too busy clapping and singing along with your favorite Afghan Star. Aah, if it were only that simple.
Buy the CD:
Author:
TJ Nelson
TJ Nelson is a regular CD reviewer and editor at World Music Central. She is also a fiction writer. Check out her latest book, Chasing Athena's Shadow.
Set in Pineboro, North Carolina, Chasing Athena's Shadow follows the adventures of Grace, an adult literacy teacher, as she seeks to solve a long forgotten family mystery. Her charmingly dysfunctional family is of little help in her quest. Along with her best friends, an attractive Mexican teacher and an amiable gay chef, Grace must find the one fading memory that holds the key to why Grace's great-grandmother, Athena, shot her husband on the courthouse steps in 1931.
Traversing the line between the Old South and New South, Grace will have to dig into the past to uncover Athena's true crime.