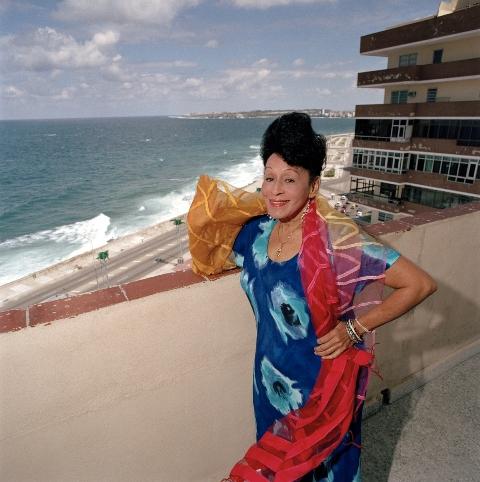 Omara Portuondo, the world renowned vocalist who began her career in the music scene of her native Cuba in the 1940s, has been granted a travel visa to perform in the United States for two very special dates in October. A member of the celebrated Buena Vista Social Club, Omara is one of the first Cuban artists in six years to obtain a visa to perform in the U.S.
Omara will perform at the Palace of Fine Arts Theatre in San Francisco on October 20, as part of the 2009 San Francisco Jazz Festival. Later that same week, she will perform on the campus of UCLA (University of California Los Angeles) on Friday, October 23.
The permission to perform in the States comes just a few days after her 2008 recording, Gracias (World Village), received a Latin Grammy nomination in the category of Best Contemporary Tropical Album.
Gracias, which marks her sixtieth year in the music business, was recorded in Havana with a first-class quintet that includes pianist Roberta Fonseca, guitarist and musical director Swami Jr., bassist Avishai Cohen and percussionists Andre Coayo and Trilok Gurtu.
The Latin Grammy Awards ceremony will be held at the Mandalay Bay Events Center in Las Vegas on November 5. The travel visa granted to Omara, and the performances made possible by it, are an example of the Obama Administration's efforts to improve political and cultural relations between the U.S. and Cuba, which have been strained for more than four decades.
"José Martí, our great Cuban poet, once said that 'music is the soul of the people,'" says Omara. "Music is at the heart of every culture, something to be shared among all people, regardless of borders and politics. It has always been a universal language for people who might not otherwise understand each other. Perhaps, through these performances, I could be a goodwill ambassador between these two countries."
Born in Havana in 1930, Portuondo became a dancer at the famous Tropicana cabaret when she was still a teenager. In addition to dancing alongside her sister Haydee, the two girls also sang with a group called Los Loquibambla, a combo that specialized in a Cubanized version of the bossa nova with touches of American jazz.
Omara and Haydee – joined by Elena Burke and Moraima Secada – became the Quarteto Las d'Aida, directed by pianist Aida Diestro. Omara toured with the group for 15 years before recording her first solo album, Magia Negra, in 1959. She stayed with the quartet for several more years before launching her solo career in 1967, amidst the Cuban revolution and the great political and cultural upheaval that came with it.
Omara joined Cuba's high-profile Orchestra Aragón, with which she recorded several albums and toured all over the world through the '70s and '80s.
Omara returned to the international spotlight when Spanish producer Manuel Domínguez, owner of the Nubenegra label, flew Omara to Madrid to record a new album, titled Palabras, in 1995. The album's artistic producers were Cuban nueva trova duo Gema y Pavel, who had settled in Madrid. On Palabras, Omara was backed by Cuban and Spanish musicians. She gave her unique vocal styling to songs coming from several different eras, the vieja trova of the '20's and '30's, the dance music of the '40's, filin from the '50's and '60's, and finally nueva trova from the '60's and '70's. She even recorded an old favorite, a Spanish song she had heard in a movie when she was a young girl.
Her 1998 album, Desafios, also on the Nubenegra label, was a collaboration with Chucho Valdes, Cuba's best pianist. But her career reached a new pinnacle via her performances for the 1997 recording, Buena Vista Social Club. The Grammy-winning album, and the accompanying Oscar-nominated film by Wim Wenders, showcased Omara's seasoned and passionate vocals in stirring duets with fellow club veterans Compay Segundo ("Veinte Años") and Ibrahim Ferrer ("Silencio").
Propelled by her success with Buena Vista, Omara entered the 21st century as an international sensation, with tours and festival dates that criss-crossed the globe. Her awards and accolades in that time have been numerous, including a 2004 Grammy nomination for Flor de Amor in the Best Traditional Tropical Record category. Billboard also recognized Flor de Amor with a 2005 Latin Music Award for Best Tropical Album of the Year. Her 2008 collaborative album, Omara Portuondo and Maria Bethania, scored a Brazilian Music Award in the category of Special Projects.
In addition, she has committed her talents to assist the efforts of several humanitarian organizations. In 2004, she became the first Cuban artist to receive the designation of international ambassador by the International Red Cross. "I have helped the Red Cross by giving performances and making recordings whose proceeds benefit children who are sick with cancer, victims of natural disasters, people who live in poverty and women who suffer from abusive treatment."
Omara has also established the Fundación de Amigos de Omara, a Cancun-based organization that provides support for women facing social and economic adversity in developing countries. "In the end, each of us has to use our gifts to help one another," she says. "This is something that is not only very important to our society, but also a beautiful expression of our humanity. My music is the gift I use to help others."
After six decades, Omara gives no thought to a final curtain call. She continues to derive a youthful energy from the positive vibrations of the world around her. "It is the simple and profound things – life, love – that inspire me most," she says. "Singing energizes me, and with this energy, I can introduce my culture and my roots to the world. Music is a part of nature, and a huge part of my life."
Buy the Omara Portuondo CDs:
Buy the Buena Vista Social Club recordings:
For more information about Omara's performances in UCLA and San Francisco:
Author:
World Music Central News Department
World music news from the editors at World Music Central