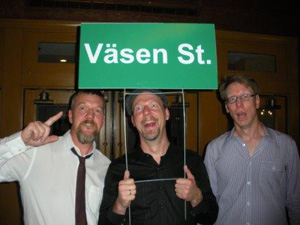 On their 20th anniversary as a band, Vasen has a lot to celebrate: a new album, a long career of doing what they love, and now, they even have a street named after them.
It started as a joke for some music lovers in Bloomington, Indiana – "We love Väsen so much, we should name a street after them." But the members of "Team Väsen" – as their fan club came to be called – started to take the idea more and more seriously; eventually, they petitioned the mayor's office, and the result?
A proclamation from Bloomington's mayor Mark Kruzan saying that given Vasen's 20th anniversary of making music for the world, and given their performances at Bloomington's Lotus World Music Festival, a "portion of Kirkwood Avenue shall be named Väsen Street."
Team Väsen member and longtime WFHB community radio volunteer Cindy Beaule calls the feat evidence of the "power of positive thinking." She said it's also a "sign" that Väsen's message of music bringing people together knows no boundaries: "I loved what Olov said, that there a lot of people who live on Väsen Street, people from all around the world. It's more of a conceptual thing, not just a physical thing."
Before Väsen came onstage for their September 24th show, over a dozen members of Team Väsen stood on stage while city councilwoman Susan Sandberg read the proclamation, after which a wooden street sign was brought onstage and presented to the band. When Olov Johansson, Roger Tallroth and Mikael Marin came out, they were genuinely surprised that the efforts of Team Väsen had paid off.
"We don't even have a street named after us in Sweden!" said Olov Johansson, who plays nickelharpa for the group.
After an electrically charged performance at the Buskirk-Chumley, Vasen received two standing ovations and performed an encore. Olov ended the night by saying, "Thank you so much, it's been a wonderful night. We got a street." Roger immediately interjected, "I guess we'll have to clean it now…we'll bring our brooms next time."
The band's genuine love of music and sense of humor was apparent throughout the night; after their first standing ovation, Roger said, "We love you – and yet, we don't really know you." Olov added, "That's a great feeling, you know?"
The band honored Team Väsen's efforts by naming their latest 20th anniversary album Vasen Street," which is "a mixed repertoire with new composed material, old Väsen favorites not recorded earlier and some traditional Uppland tunes." The cd is now available in the US, released by Northside.
Väsen Street signs will be posted for the duration of the Lotus World Music Festival, September 24-27.
Buy Väsen's recordings:
Author:
World Music Central News Department
World music news from the editors at World Music Central