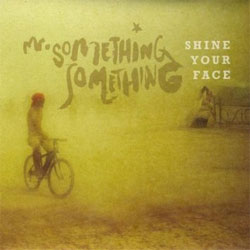 Canadian Afrobeat group Mr. Something Something will be performing for American audiences in October, including a stop at The Shrine in New York City. The band's highly energized, political, funny and unpredictable live shows have earned the band an extremely loyal following and a reputation among audiences and critics alike as an act not to be missed.
Since 2003, Mr. Something Something have been exploring new musical territory with their unique mix of pop, jazz and West African rhythms. On Shine Your Face, the band's fourth album, the Toronto-based collective of dancefloor activists look for new ways to fuse the modality and improvisations of jazz with danceable poly-rhythms, strong melodies and intelligent lyrics, all in order to make dancers think and thinkers dance.
The band's irresistible rhythms and interactive shows have long served as a vehicle for social justice & environmental activism, and recently the band has taken audience participation to a whole new level with its SoundCycle – Canada's first bicycle powered sound system.
Mr. Something Something's first two albums received glowing reviews, and Deep Sleep, the follow-up to JUNO-nominated The Edge, was the most played world music album on Canadian college radio in 2007. Deep Sleep was recently re-released in Japan and a track from the same album was included on the prestigious British compilation The Rough Guide to Afrobeat Revival , released in more than fifty countries in March 2009. The band has also been receiving growing media attention abroad, most recently through features on Polish National Radio and in French music magazine Vibrations.
American Tour:
10/09/2009, Fri
Chicago, IL Serbian Cultural & Arts Center
448 W. Barry Ave.
Tix: $10.00, Doors Open: 9 pm, Show: 10 pm
# Ph: (773) 549-9690
10/10/2009, Sat
Cedar Rapids, IA CSPS Legion Arts
1103 Third St. SE.
Show: 8 pm
# Ph: (319) 364-1580 All Ages
10/13/2009, Tue
Pittsburgh, PA Shadow Lounge
126 S. Highland Ave.
Tix: $7.00, $5 with College ID, Show: 8 pm
# Ph: (412) 363-8277
10/15/2009, Thu
Potsdam, NY La Casbah
6 Elm St.
Tix: $8.00, Show: 9 pm
# Ph: . (315) 274-9696
10/16/2009, Fri
New York, NY The Shrine
2271 Adam Clayton Powell Jr. Blvd (133-134 St.)
Show: 10 pm
# Ph: (212) 690-7807
10/17/2009, Sat
Rochester, NY Dub Land Underground
315 Alexander St.
Show: 10 pm
# Ph: (585) 232-7550
Buy the band's recordings: Mr. Something Something, The Edge, Shine Your Face
Author:
World Music Central News Department
World music news from the editors at World Music Central