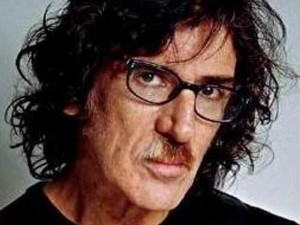 Candido Camero, Beth Carvalho, Charly García, Tania Libertad, Marco Antonio Muñiz, and Juan Romero will receive the 2009 Latin Recording Academy Lifetime Achievement Award. José Antonio Abreu and Roberto Cantoral will be honored with the Latin Recording Academy Trustees Award. The award recipients will be acknowledged at a special ceremony on Wednesday, Nov. 4, 2009, at the Four Seasons Hotel in Las Vegas. The 10th Annual Latin GRAMMY Awards will be broadcast live on the Univision Network from 8 – 11 p.m. ET/PT (7 p.m. Central) from the Mandalay Bay Events Center in Las Vegas on Nov. 5, 2009.
"As we celebrate a decade of the Latin GRAMMY Awards, recognizing extraordinary music and its makers, it is only fitting that we pay homage to these exceptional individuals who have contributed their rich, dynamic talents to Latin music," said Gabriel Abaroa, President of The Latin Recording Academy. "The Board of Trustees of The Latin Recording Academy is humbled to salute these diverse performers and humanitarians who have made prolific contributions to Latin culture, both musically and socially."
Lifetime Achievement Awards: This Special Award is presented by vote of The Latin Recording Academy's Trustees to performers who have made creative contributions of outstanding artistic significance to the field of recording during their careers.
Cuban percussionist Cándido Camero is a celebrated musician who began his musical journey in his native Cuba before making his way to New York City in 1952 where he would begin recording with Dizzy Gillespie. Playing Afro-Cuban and traditional jazz he pioneered tuning congas to the melody of the song. At the age of 88, he continues to charm crowds with his talent and has been recognized with the National Endowment for the Arts Jazz Masters Award.
Hailing from Rio de Janeiro, Brazil, Beth Carvalho is a samba singer, guitarist, and composer. She is known as the "madrinha do samba" (godmother of samba), bringing recognition and reverence to great composers and songwriters, and she was a driving force in re-igniting the genre in the '80s. With a career that spans 40 years, she continues to record and is celebrated for her integral role in the history of Brazilian music.
Growing up in Argentina, Charly García began playing classical piano at 4 years old, and later was inspired by the Beatles, who he said were like "classical music from Mars." García was an integral player in the Argentine rock movement with his bands Sui Generis, La Maquina de Hacer Pajaros and Serú Giran in the '70s before beginning his solo career in 1982. He has collaborated and performed with artists from all over the world, and continues to record today, recently releasing the song "Deberías Saber Porque" in August. Garía is considered a true icon of rock music throughout Latin America and Spain.
Known as a singer who has moved audiences with the emotion in her voice, Tania Libertad was born and raised in Peru and moved to Mexico in 1978 where she would build an international career. Libertad has sung in a wide variety of styles including Peruvian waltzes, boleros, and African music and has sung all over the world and on every continent. Many of her songs contain a social message, and in 1997 she was honored as an UNESCO Artist for Peace.
As ambassador of traditional romantic songs, Marco Antonio Muñiz has released close to 80 albums and 40 hit singles across all of Latin America. Born in Jalisco, Mexico, he has performed in stadiums and coliseums throughout his career in both Latin America and the United States. Before starting his successful solo career, he was the extraordinary lead voice of the trio "Los Tres Ases," and his distinctive voice has driven a thriving solo career that continues today.
Singer, songwriter, poet, and preacher Juan Romero has worked in the ministry for more than 50 years, writing more than 430 hymns, as well as his own autobiography detailing his work. Born in Monterrey, Mexico, Romero hosted a television program for more than 10 years with his wife Aurora that reached an audience of more than 70 million people. After relocating to the United States he continues to travel the world, conducting meetings for Christian education and music.
Trustees Award: This Special Award is presented by vote of The Latin Recording Academy's Trustees to individuals who have made significant contributions, other than performance, to the field of recording during their careers.
Venezuelan pianist, educator, economist, and activist José Antonio Abreu got his career start in politics, serving as minister of culture for Venezuela, and worked as a university professor of economics and law. In 1957 he began to study piano, harpsichord, and organ, and received the Symphonic Music National Prize in 1967 for his talent. In 1975 he founded El Sistema, an innovative youth education organization in which music is the primary avenue for social and intellectual improvement, promoting values of respect, fellowship, and humanity. El Sistema has garnered him many awards and accolades, and in 1998 he was designated a Goodwill Ambassador by UNESCO.
Celebrated Mexican composer Roberto Cantoral made his musical debut in 1950 in the Theater Follies, and was a member of the trio "Los Tres Caballeros" before garnering critical acclaim as a composer. He has written such works as "El Reloj," "La Barca," and "Regálame Esta Noche," all of which have been recorded in many languages around the world. He serves as chairman of the board for the Mexican Society of Authors and Composers (SACM) and his work has been performed by dozens of acclaimed singers, nationally and internationally. He has participated in festivals in his native Mexico, as well as Brazil, Japan, and Greece, and received numerous awards throughout his career. He was elected chairman of the Ibero-American Committee of CISAC in 2003
Author:
World Music Central News Department
World music news from the editors at World Music Central