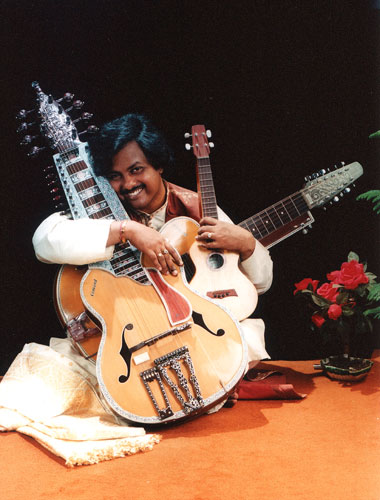 Renowned slide guitar master Debashish Bhattacharya will be touring the United States and Canada in September and October of 2009. Debashish Bhattacharya will be promoting his latest recording, O Shakuntala!
The new recording is based on Abhigyana Shakuntalam (The Recognition of Shakuntala), an epic love story written by the great Sanskrit poet Kalidasa. The music traces the legend of King Dushyanta and the beautiful Shakuntala. In the tale, they fall in love and marry but an evil sage curses Shakuntala, keeping them apart. Fortunately, the spell is finally broken and they are happily reunited for all eternity.
Since discovering a Hawaiian lap steel guitar at the age of 3, Debashish has developed into one of the world's greatest slide guitarists. Born in Kolkata in 1963, awarded the President of India Award at the age of 21, and, made a Pandit (master) at the age of 40, he is a fearless innovator developing new slide guitar designs and techniques.
Performing alongside him are his brother Subhasis – a prominent name on the Indian music scene – on the tabla, and India's only female pakhawaj (wooden barrel drum) and mridangam (drum) artists, Chitrangana Agle Reshwal and Charu Hariharan.
Last year Debashish Bhattacharya won the BBC Planet Award for World Music. This year, 2009, his album Calcutta Chronicles: Indian Slide-Guitar Odyssey is nominated for a Grammy in the traditional world music category.
Tour Dates
26 September Capilano College, Vancouver , British Columbia, Canada
27 September Alix Goolden Hall, Victoria, British Columbia, Canada
29 – 30 September Jazz Alley, Seattle WA
1 October Yoshi's, San Francisco, CA
3 October Jain Temple Auditorium, Milpitas CA
4 October Schulman Auditorium, Carlsbad CA
9 – 11 October Richmond Folk Festival, Richmond VA
12 – 16 October Workshop, Hartford, CT, USA
16 October Charter Oak, Hartford, CT
17 October Calvary Church, Philadelphia PA
18 October University of Pittsburgh, Pittsburgh PA
19 – 20 October Pittsburgh workshops, Pittsburgh PA
21 October Rhodes College, Memphis TN
23 October Indian Society Auditorium, Lawton
Buy Debashish Bhattacharya's recordings:
Author:
World Music Central News Department
World music news from the editors at World Music Central