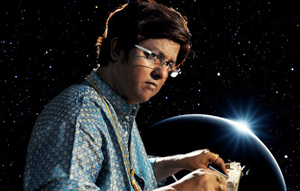 SeattleIndian.com and the Pacific Jazz Institute at Dimitriou's Jazz Alley present the pioneer of Indian slide guitar Debashish Bhattacharya on September 29 – 30, 2009. Joining Debashish will be his brother Subhashis Bhattacharya on tabla. Show time Tuesday and Wednesday at 7:30pm. Doors open at 6pm.
Last year Debashish Bhattacharya won the BBC Planet Award for World Music and this year, 2009, his album Calcutta Chronicles: Indian Slide-Guitar Odyssey is nominated for a Grammy in the traditional world music category. As a resident of Calcutta, Debashish's music reflects the sights and sounds of this culturally vibrant city. The album Calcutta Chronicles: Indian Slide Guitar Odyssey portrays the musical journey and autobiographical passages juxtaposed through a musical idiom that is refreshingly new and respectfully old. His latest album is O Shakuntala!.
Debashish Bhattacharya grew up accompanying his parents, who are both vocalists, but he distinguished himself as a prodigy at age 3 after discovering a Hawaiian guitar at home, a remnant from a Bengali Hawaiian music craze sparked by a visit from the great Hawaiian steel guitarist Tao Moe in the late 1920s.
Because he was initiated into classical Hindu music through vocal structures, Bhattacharya was struck by the slide guitar's ability to transcribe the music into correlating instrumental structure. The promise of an uncut diamond prompted his parents to take their first-born to the feet of stalwarts in the arena of vocal and instrumental (guitar). The intense and rigorous training under the able wings of his gurus chiseled him and he emerged as the most brilliant guitarist of the present generation.
His combination of soul and stellar technique has attracted the attention of elite guitarists like John McLaughlin, who wrote in an e-mail that he was so "impressed by his musicianship and heart-felt playing" that in 2000 he invited Bhattacharya to perform with Remember Shakti, a new incarnation of the pioneering Indo-jazz ensemble he founded with tabla master Zakir Hussain. (That Mumbai concert was documented on the DVD The Way of Beauty.) They've performed together several times since then, "and for my latest recording, Floating Point, it was impossible not to invite him as a guest soloist," McLaughlin wrote.
O Shakuntala! is based on Abhigyana Shakuntalam (The Recognition of Shakuntala), an epic love story written by the great Sanskrit poet Kalidasa, the music traces the legend of King Dushyanta and the beautiful Shakuntala. In the tale, they fall in love and marry but an evil sage curses Shakuntala, keeping them apart. Fortunately, the spell is finally broken and they are happily reunited for all eternity.
Bhattacharya performs seated cross-legged on stage, with his instrument flat across his lap. In American music, slide guitar is indelibly linked to the blues, and the technique's vocal inflections are commonly used for searing, extroverted effect. In Bhattacharya's hands, slide guitar is an infinitely subtle vehicle employing microtonal scales and intricate patterns alternating brief, lightly touched notes and long, sustained slides.
Buy Debashish Bhattacharya's recordings:
The Pacific Jazz Institute at Dimitriou's Jazz Alley
2033 6th Avenue, Seattle, WA, 98121
COST: $22.50
www.jazzalley.com
Author:
World Music Central News Department
World music news from the editors at World Music Central