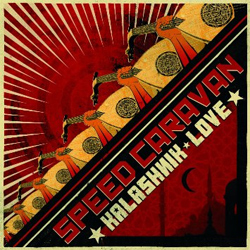 Speed Caravan's debut album Kalashnik Love – its title track a furious homage to Udi Hrant – combines tradition and future, ancient and urban, beauty and fury to stun-gunning effect. Laden with special guests and throbbing with raw rock energy it references everyone from The Cure and The Chemical Brothers to Algerian rai and other Arabic influences. The sublime result of several year's worth of incendiary live touring, it is fusion – but not as we know it.
"I've always had this rage that I need to express." Mehdi Haddab sits back, rests his electric oud on his lap. "Rage against, I don't know… injustice. Inequality. The system. And music – loud music – is the thing that helps me channel it."
Electrified, amplified and fuelled by creative fire, the Paris-based quartet charge towards a psychedelic horizon; slaloming through rock, dance, electro, hip hop, world and other music – blazing a trail with raised fists, a hand brake turn and a sharp spray of desert sand.
Haddab is a virtuoso of the classical oud, that fretless Arabic lute beloved of Middle Eastern orchestras and an instrument with a history stretching back over 5,000 years. Inspired by traditional players such as post WW2 sensation Udi Hrant Kenkulian, Haddab mastered the instrument and took it with him into French global electronica trio Ekova and the acclaimed experimental duo DuOud.
Speed Caravan started performing as a trio: Haddab, with bass player and long-time friend Pascal 'Pasco' Teillet; and electronic beat mistress and former Ekova member, Hermione Frank. Word of mouth spread, as audiences marvelled at Haddab's flamboyant, frenetic style (not for nothing has he been called the "Hendrix of the oud"); at the way Pasco's bass underlined the oud's arabesques; at the way Frank grooved at her computer. Later the trio were joined by deft percussion skills and throaty vocals of Moroccan-born Mohamed 'Simo' Bouamar, who kept the vibe firmly in the East.
Kalashnik Love boasts an army of like-minded collaborators, such as sound engineer and sonic architect David Husser and Rachid Taha, the rai rebel himself, weighing in on an urgent version of The Cure's Killing An Arab. A cover version of The Chemical Brothers' Galvanise grabs by the scruff and doesn't let go. Adding their own rage to the already considerable fury of the Berber-music-sampling original are Spex MC, ex member of Asian Dub Foundation, Algira, Rabah and Deymed of Algiers-based hip-hop outfit Micro Brise le Silence, and civil rights activist Paul Kendall. "The Chemical Brothers were using Arabic music to shock," says Haddab of the English electro rock duo. "We're hitting them back with another interpretation, like you would in a racquet game."
Other guests include Yemeni singer Abdulatif Yacoub, guitarist Rodolphe Burger, Asian Dub Foundation's Rocky Singh, Richard Archer from indie-rock gods Hard-Fi, percussionists Arnaud Dieterlen, and Rabah Khalfa (usually heard backing Algerian chanteuse Souad Massi), young Serbian synthesiser prodigy, Viorel Tajkuna, renowned Breton vocalist Erik Marchand. Remixes add final touches to the album: celebrated British producer Sidestepper gives us a visionary Daddy Lolo. Malian innovator Mo DJ works his magic on Aissa Wah.
Live UK show and album launch:
Wednesday, 7 October 2009, 7.30pm
Dingwalls, Middle Yard, Camden Lock, London NW1 8AB
Tickets: £10 advance + booking fee
http://www.dingwalls.com
Author:
World Music Central News Department
World music news from the editors at World Music Central