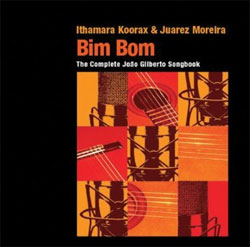 In honor of bossa nova pioneer João Gilberto, Brazilian vocalist Ithamara Koorax, in collaboration with top contemporary Brazilian guitarist Juarez Moreira, has recorded Bim Bom: The Complete Joao Gilberto Songbook, which will be released on Motéma Music on October 13th. Although Gilberto has been amply praised as a "legendary vocalist" and as the innovative guitarist who invented bossa nova, his contributions as a composer are often overlooked. With this tribute, Koorax and Moreira make clear that songwriting is indeed a valuable part of Gilberto's legacy.
The CD features, for the first time ever, all of Gilberto's compositions on a single disc. Koorax, who has consistently been named among the Top Female Vocalists in DownBeat's Readers' Poll, is formidable in partnership with Moreira, who is revered as a top Brazilian guitar master, and has worked with such legends as Milton Nascimento, Claudio Roditi, and Toninho Horta. Together they perform twelve tracks, distinguished by a graceful simplicity and a remarkable rapport that showcases both artists while elucidating Gilberto's brilliance as a composer.
The CD is also notable as the second release in Motéma's "Jazz Therapy" series, benefitting the Dizzy Gillespie Memorial Fund of Englewood Hospital and Medical Center which partners with The Jazz Foundation of America to provide free medical care and screenings to musicians in need. Jazz Therapy (Volume I): Smile featured duo guitar masters Roni-Ben Hur and Gene Bertoncini, who launched the series in November 2008 to great critical and public acclaim, and sparked a Wall Street Journal feature on Englewood Hospital's extraordinary program.
Bim Bom is the 12th solo release in Ithamara Koorax's career. Well known in her native Brazil as a jazz-pop singer, she made her United States recording debut in 2000 with Serenade in Blue. In the nine years since its release, she has received numerous accolades for her work. Koorax has recorded with such great musicians as Antonio Carlos Jobim, Luiz Bonfá, Ron Carter, Larry Coryell, Sadao Watanabe, Gonzalo Rubalcaba, Jay Berliner, Caetano Veloso, João Donato and many others.
Bim Bom producer Arnaldo de Souteiro has been a close associate of the reclusive Gilberto since 1979. He produced the tribute with a meticulous eye in regard to tempos and keys, in homage to the composer, while allowing Koorax and Moreira the space to create an intimate, improvisational "live in the studio" performance.
Ample notes that accompany the CD feature interesting comments about each composition. Gilberto has never before published a songbook, so the CD also serves as an excellent resource for guitarists seeking to master his material. "Although some of the songs may seem very simple," explains Moreira, "it's a false impression. They demand a lot of technique. That's the main ingredient of Gilberto's magic: to make very difficult and intricate things seem so easy and sound so natural."
Koorax has her own special relationship with the music. "I don't think of Bim Bom as just one more album in my career," says Koorax. "I have always loved João Gilberto, and grew up listening to his recordings."
"Gilberto continues his perpetual evolution to this very day," she adds. "Every time he plays one of the songs that he has been playing for fifty years, he does so by employing new syncopations and new phrasings. Furthermore, everything he plays becomes bossa nova. That is why we can say that the bossa nova is João Gilberto, yet João Gilberto is bossa nova and much more."
Buy the recording:
Author:
World Music Central News Department
World music news from the editors at World Music Central