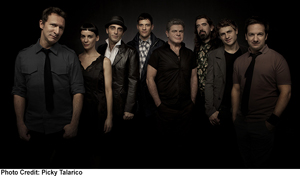 The Eighth Small World Music Festival will be held September 24 – October 4 in Toronto, Canada. The focus of the organizers is firmly on community, developing new partnerships and reaching out to music fans from the many different cultural backgrounds that make up the Toronto mosaic.
Three new collaborations include a return performance from tango-rockers Bajofondo, presented in association with Live Nation, a Toronto debut concert by Omnesia Live with co-presenters Miles Nadal JCC and the Royal Conservatory's launch of their beautiful new Koerner Hall with a performance of the masters Béla Fleck / Zakir Hussain / Edgar Meyer.
Small World Music has been a pioneer and an integral part of the growing world music scene in Toronto for over a decade. Continually generating and nurturing key relationships within the music community, the organization is collaborating with Live Nation, the Miles Nadal Jewish Community Centre as well as participating in the launch of the Royal Conservatory's beautifully designed Koerner Hall.
Maria de Barros will replace Minyeshu on Saturday, September 19th. Minyeshu has cancelled.
Artist Profiles and Program:
Omnesia Live (India / Canada)
Saturday, Sept. 26 @ 8:00 pm
Al Green Theatre (Presented in association with Miles Nadal JCC)
Tickets: $20 / 25
Led by musical innovator Anuj Rastogi, Omnesia is a remarkable ensemble featuring some of Canada's finest global musicians. A sonic journey that bridges ancient and modern, east and west, Omnesia has garnered critical acclaim in Europe and North America. Their Toronto debut will feature the vocal and tabla mastery of Cassius Khan, and include soul and Hindi vocalists, bansuri, sarod, cello, guitar, electronica and live animated visuals.
Bajofondo (Argentina / Uruguay)
Monday, Sept. 28 @ 9:00 pm
Opera House (Presented in association with Live Nation)
Tickets: $25 / 30
Over the course of two sold-out Toronto shows, Bajofondo's electronica-infused tango rock has taken crowds by storm, enveloping them in a sweaty delirium of sound and dramatic visuals. Combining some of the hottest players in Argentina and Uruguay under the direction of multiple Oscar & Grammy award winner Gustavo Santaolalla, the band's hypnotic sound has seduced dance floors worldwide.
Buy recordings by Bajofondo:
Béla Fleck / Zakir Hussain / Edgar Meyer (India / USA)
Tuesday, Sept. 29 @ 8:00 pm
Koerner Hall, (Presented in association with Royal Conservatory of Music)
Tickets: $20 – 75
A unique meeting of masters brings together three of the most influential artists of their generation. Béla Fleck, the premier banjo player in the world, has won eight Grammy Awards while reinventing the image and sound of the instrument. Tabla master Zakir Hussain is renowned as an international phenomenon in the field of percussion and a chief architect of the contemporary world music movement. Edgar Meyer is a masterful bassist with a celebrated career as both a performer and a composer.
Venue and & Advance Ticket Information:
Al Green Theatre
Miles Nadal Jewish Community Centre, 750 Spadina Ave.
416-924-6211 / mnjcc.org
Advance tickets: smallworldmusic.com & Soundscapes, 572 College St.
Opera House
735 Queen Street E.
416 466-0313 / theoperahousetoronto.com
Advance tickets: 416 870-8000 / ticketmaster.ca & Soundscapes, 572 College St.
Koerner Hall
TELUS Centre for Performance and Learning, 273 Bloor Street W.
416 408 2824 / rcmusic.ca
Advance tickets: 416 408-0208
Author:
World Music Central News Department
World music news from the editors at World Music Central