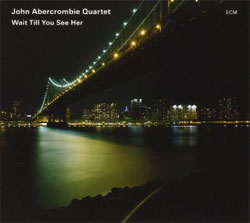 John Abercrombie Quartet
Wait Till You See Her (ECM Records, 2009)
The John Abercrombie Quartet–(Abercrombie (electric guitar), Mark Feldman (violin), Thomas Morgan (double-bass) and Joey Baron (drums and percussion), melds free jazz with swing, leaning towards a somber tone on the quartet's latest release, "Wait Till You See Her".
"Sad Song," appropriately titled, features lamenting guitar and Stèphane Grappelli-style violin hovering over a backdrop of Joey Baron's shadowy brushes on cymbals and snare. "Line-Up" picks up the pace with plucky and even funky passages that alternate between free jazz and swing. Although I find this track rather busy, as I do a lot of improvisational work of contemporary jazz performers.
The titular track, the only cover on the recording, by Richard Rogers and Lorenz Hart from the 1942 musical, "By Jupiter" starts out with Chinese gong type percussion and lamenting discordant violin, resembling moody chamber jazz piece rather than a show tune. On my favorite track on the CD, "Chic Of Araby," Abercrombie's guitar recalls Tom Waits' earlier work, "Swordfish Trombone" and "Rain Dogs". It starts out with a Morgan's bass solo punctuated by wavelike cymbals. Feldman's legato violin strains alternate with lyrical phrases. And there is a lot to take in with this piece, especially through a pair of headphones.
In the press release, a quote from an interview with Abercrombie (journalist Paul Olson), the guitarist reflects on his work with Feldman. "He'll jump in and start playing behind me on tunes, playing double-stops or making little quotes and it's like having an orchestra. It inspires me to play in particular ways…I was looking for a band that had a wide dynamic range that would delve into freer areas of improvisation…"
And his motto could read, "Free, but not easy." The music on this disc does require a great deal of concentration on the listener's behalf and with a few listens before it all begins to sink in.
Patricia Herlevi is a regular contributor to World Music Central and she hosts the healing music blog, The Whole Music Experience. She also teaches music awareness and appreciation classes in Washington State.
Buy the recording:
Author:
PatriciaHerlevi
Patricia Herlevi is a former music journalist turned music researcher. She is especially interested in raising music consciousness. She is looking for an agent and publisher for her book Whole Music (Soul Food for the Mind Body Spirit). She founded and hosts the blog
The Whole Music Experience and has contributed to World Music Central since 2003.