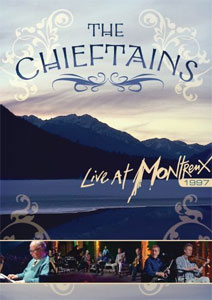 Switzerland's legendary Montreux Jazz Festival has always boasted a variety of talent, in all musical genres. In 1997, it proudly hosted a feast of Irish culture, when The Chieftains graced the stage. The result is a DVD titled Live at Montreux 1997 (Eagle Rock Entertainment/Eagle Eye, 2009).
Bringing a unique aesthetic to the Montreux stage, The Chieftains effortlessly engaged the crowd on this night. Celebrating a stellar 35-year career at the time, they brought their seamless blend of Irish culture, folk, pop, and classical influences to the festival. Complete with special appearances from step-dancers and bagpipe players, this is a set that gave a whole new flair to the jazz festival.
One of the first bands to popularize traditional Irish music, The Chieftains have enjoyed a long and celebrated career, and are still undisputed as one of the greatest Irish folk bands of all time. Originally founded in 1962 by Paddy Maloney (Uilleann pipes, tin whistle), the band has enjoyed massive success, earning six Grammys and an Emmy through the course of their fantastic journey. The classic line-up of Maloney, Matt Molloy (flute, tin whistle), Kevin Conneff (bodhran, vocals), Martin Fay (fiddle), Sean Keane (fiddle), and Derek Bell (harp, piano), truly made an impact on this night, with a blend of music, dance, and culture that is truly superb.
Also available from Eagle Rock Entertainment is The Chieftains' Live Over Ireland: Water From The Well DVD, which was released in July 2007.
Buy the DVDs:
Author:
World Music Central News Department
World music news from the editors at World Music Central