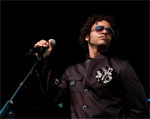 Montreal-based Afro-funk collective Papagroove announced the nomination of "We're Not Blind¨ (Disques Anubis/Outside Music) as World Album of the Year within the framework of GAMIQ (Gala de l'Alternative Musicale Indépendante du Québec). The first record album produced by Papagroove, ¨We're Not Blind¨ was officially released in July 2008 within the framework of the Montreal International Jazz Festival.
This first opus includes amongst its collaborators the sound engineer, David Sturton (Bran Van 3000, Jean Leloup), David Ngohdefikko from Cameroon, member of the legendary group of Fela Kuti, Egypt 80. Primarily, this album made it possible for the group to hold their first national tour, the ¨Papagroove: We're Not Blind Summer Tour 2009¨, with more than 25 concerts presented in three Canadian provinces within a period of two months.
Papagroove invites music fans to visit the web site www.gamiq2009.com in order to vote ¨We're Not Blind¨ as the World Album of the Year 2009, you can cast your vote until the 19th of September 2009.
More information at: www.myspace.com/papagrooveband
Author:
World Music Central News Department
World music news from the editors at World Music Central