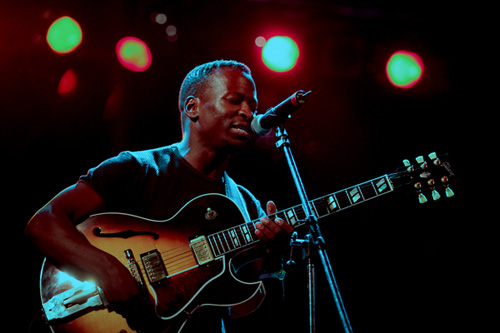 The Weapon, the Broom, and the Guitar: South Africa's Selaelo Selota Unites Music of the Jazz Club, the Gold Mine, and the Hunt For South African musician Selaelo Selota, home is where electric guitar intertwines freely with broken families, beloved forests, and the wily animals of sePedi legend. Memories of hunting with a throwing stick mix with those of mining gold and sweeping jazz clubs, before Selota discovered his talent for jazz guitar. Sorrow for the father who abandoned him mingles with commitment to be a central figure in his own family's life. Anger over the abuse of an aunt who fled her cruel husband in terror on a bike intermingles with passionate appreciation for a beautiful lover.
Selota's roots and hopes combine on Lapeng Laka (SIN/Sony South Africa; August 4, 2009), Selota's circumspect yet joyful return to the music and deeply personal experiences of his village youth. The album title means "My Home" in English.
"SePedi music grew in me," remembers Selota, about the music of his people in the northern part of South Africa. "It was always used during story time, when we would listen to legendary stories around the fire and the teller would incorporate songs. I was not aware I had been so enriched with these melodies, these simple, beautiful tunes. Now my whole band when we play, it is more like we are celebrating, an energy I cannot describe. And it all comes from home."
Selota's journey from home and back is one of striking perseverance and ingenuity. Raised by his mother in a remote village, Selota spent most of his time watching the family's herds. He rode in a car for the first time at age thirteen when his family visited relatives in the city. There, instead of the traditional songs and the improvised instruments he crafted from tire inner tubes and oil drums, he got his first mind-blowing taste of Michael Jackson, James Brown, and Otis Redding.
Now a highly respected jazz guitarist, Selota did not discover his talent for the instrument until nearly a decade later. After graduating from high school and lacking the money to continue his studies, he took a job in a gold mine, where he encountered music from all over South Africa thanks to his fellow miners.
Soon, however, Selota set off for Johannesburg in search of opportunity. He found it: While working as a janitor at the city's famous jazz club Kippies, Selota bought a guitar and was soon playing the clubs he had only recently swept and mopped. His determination and style yielded a scholarship to the University of Cape Town, where Selota studied jazz. After several popular releases, Selota found himself leaning homewards, thinking more and more about the sePedi music of his youth and adding his own Afro-pop and jazz-inflected twist.
For Selota, home is a region and people that have long been overlooked. "Even in South Africa people don't understand the sePedi culture. It has not been regarded as one of the mainstream cultures, like Xhosa or Zulu," Selota reflects. "Because of this, even the Pedi people think their culture is not unique. So it takes someone like me who has gone to school to convince them. I find so much happiness and energy in the sePedi culture and the music itself." Most Pedi people live in the area around Limpopo, a diverse province bordering on Zimbabwe, Mozambique, and Botswana and sharing cultural elements with its northern neighbors. Though the region's many ethnic groups under apartheid were forced to live separately, mixing and borrowing from the wide variety of cultures and languages remained a big part of everyday life.
In a Pedi village, the celebratory energy Selota loves so dearly bursts out during weddings and other ceremonies, through songs like "O tshwana le" or the mysterious "Mala a mpsa:" "I heard that song when I was a kid. I thought it was strange for men to sing a hunter's song like that at wedding, saying, 'Please somebody a dog has died, please come and open up the dog so we can eat.' But I love the melody," Selota explains, noting the connection to his people's subsistence roots.
Hunting and herding made up the fabric of Selota's everyday life as a boy. When not looking after the family's cattle, Selota would set out from his mother's house with his trusty dogs and his knobkiere, a hammer-like throwing stick used on everything from hares to springboks. He learned songs like "Tshwene," a lament for a beloved dog killed by the crafty and much feared baboons in the forest, and "Dithabeng," a traditional tribute to clever animals who pick up on human habits and avoid capture.
The songs of Selota's youth did more than simply mark memorable occasions, however; they also allowed members of the community to offer criticism and advice without direct confrontation. "One aspect in sePedi songs is that people are able to start a song in the middle of nowhere. If they see a man who was doing something that is not in order, instead of confronting that person, a group of people watching what goes on include that man's name within the song. The community uses song to bring to his attention that he has gone out of hand, been exposed, while he thought nobody knew."
Selota has taken this principle and used it to create originals addressing broader social issues—the destructive gossip he condemns in "Ka leleme le"—in an outspoken way that sometimes got him into hot water. Selota recalls several occasions when his message hit a little too close to home for some listeners, and he narrowly avoided trouble when they came to confront him.
But Lapang Laka goes beyond general criticism and advice. Selota uses sePedi traditions to explore his family's difficult past and complex relationships, whether it be the poor choices of an abusive uncle whose wife fled on a bicycle ("Tshipi sepanere") or estranged brothers who have given Selota the cold shoulder, despite his efforts at reconciliation. Trying to depart from his father's ways and heal the rift in his family, Selota through his songs reaches out to his father's family, and especially to his uncles, asking for fatherly advice ("Thusa Hle Malome") about turning over a new leaf in his own relationships.
For Selota, it's all connected and all revolves around a more intimate vision of home, a loving couple uniting their families and by extension the entire country. And homecoming means more than a nostalgic return to roots; it's about recognizing the need to make peace in the family and the community, a meaningful message in today's rapidly changing South Africa.
"When I say my home, I am also using the phrase as a unifying factor," Selota explains. "I am singing about a man and a woman, how when two people come together, they also bring their family together, and their extended families as well. Those extended families are a community. Together they make a nation. When they are separating, the two families are separating, the communities are separating, the nation is separating."