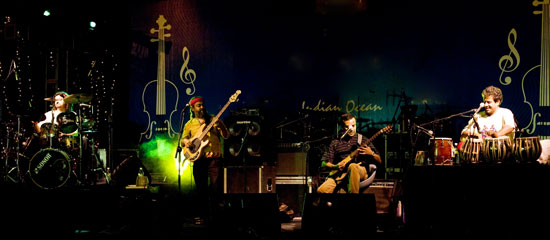 Renowned Indian band Indian Ocean launches their highly anticipated 7th United States tour at the end of August 2009, playing at universities, clubs, and world music festivals around the country, including BB King in NYC and Globalquerque World Music Festival.
Ask the four musicians in Indian Ocean, one of India's most popular bands, about how they made it to where they are today. They made it by not thinking about how to make it.
Lounging in the verandah of the beautifully dilapidated home in Central Delhi where Indian Ocean meets everyday to compose and practice their music, guitarist Susmit Sen recalls how he met percussionist Asheem Chakravarty at a concert in 1984. Bonding immediately over their shared love for Indian classical music and their shared interest in creating music, they started jamming together, casually at first and then more seriously by 1990. After a couple additions and subtractions of members over the next three years, Rahul Ram (a schoolmate of Susmit) joined the group as bassist.
While searching for a drummer, they headed to a college concert where they heard Amit Kilam on drums and immediately decided to recruit him. Still in college and much younger than the other three, Amit joined the gang in 1994 – which formed the current line-up of the band.
With few opportunities for live gigs, they spent the next few years playing and composing mostly for themselves and they joke, "the neighborhood dogs." Amit remembers these days, "We were broke. Yea, so what? We were making music and investing our time into doing something we really like. So what's the big deal with being broke? We earned little but also spent little – sometimes – just about a $1/day for food and transport. It took 2 hours to get to practice on the bus and then I would hitchhike back late at night."
Even with wives and kids on the way, Susmit and Asheem gave up their salaried jobs to fully dedicate their headspace to the band. Asheem looks back at that time, "The concept of 'what happens if I fail' never really entered my mind. I knew that if I didn't give this a try now, I would never do it. We all survived for years on our individual savings, the support of our family, and the joy of making music. We took on various musical assignments to keep some money coming in – composing music for ads and documentaries."
Rahul feels, "Those early years were tremendous for us – to develop a tighter sound, to learn to compose together, and to experiment with our instruments. We never really thought about making a lot of money or marketing ourselves."
Their album Desert Rain, released in 1997, helped pave their way to getting more gigs around the country and get radio, TV and press coverage.  Susmit laughs, "A lot of intellectualization is done about Indian Ocean since we are doing something different. Much press is given to what genre of music we play. Our sound is beyond categorization. We don't know what musical genre we fall into. And we have stopped trying to come up with a genre."
When their album Kandisa was released in 2000, it catapulted Indian Ocean to national stardom and became one of the biggest-selling albums ever by an Indian band.  Then came their album Jhini, released in 2005, and >Black Friday, in 2007, Indian Ocean started going places fast.
Amit sums it up, "Over the last 15 years, we have played to crowds of 10 and crowds of 30,000.  We have played in tiny towns in India where people speak our language and big cities across the world where we don't speak their language. But now with over 600 shows in 20 countries, we absolutely love playing live. It's what keeps us going. I remember a recent show in Japan where we played to a tremendous audience who spoke very little English and definitely no Indian languages. The crowd went wild. Some fans were even singing the words to our songs. This is the connection that only music can bring between people."