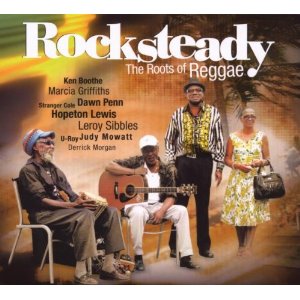 Various Artists
Rocksteady: The Roots of Reggae (Moll-Selekta, 2009)
The idea of a Buena Vista Social Club-style reunion of reggae legends is so screamingly obvious, it's surprising nobody has thought to do it yet. However, with Rocksteady: The Roots of Reggae, Ernest Ranglin (no small presence on the reggae scene himself) presided over a series of sessions at Kingston's Tuff Gong Studios with some of the genre's greatest vocalists, and emerged with an album that warmly resurrects the style for contemporary audiences.
U-Roy's performance is a highlight, as he melds his toaster inclinations with the sultry, loping melody of "Stop That Train"; equally resonant is Hopeton Lewis' emotionally devastating take on "Rivers of Babylon," which adds a bit of gospel fire to the Melodians' original. Unsurprisingly, towering figures like Marcia Griffiths ("Tide Is High") and Ken Boothe ("Freedom Street" and "Shanty Town") deliver exceptional performances as well.
While the production value here unsurprisingly comes across as a bit more polished than the '60s-era recordings that defined the rocksteady movement, there was little attempt on behalf of Ranglin (and arranger Lynn Taitt) to modernize these classics. In fact, many of the songs are stripped back to their original, rootsier arrangements, rather than the more complex renditions that became so well known in the '70s reggae revolution. The result is a sort of contemporary timelessness, which, considering the material and the performers, shouldn't be all that surprising.