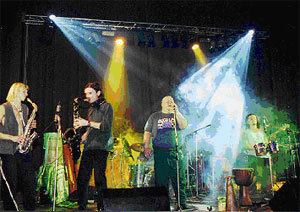 Czech band Cankisou have released their third video from the CD Le la (2008, Indies Scope Records). This time it is an animated video called Borrega using puppets and different animation techniques. It is a video about a shepherd and his passion for rugby that was made by students and directed by Lenka Zemanova. Borrega means a lamb in a Spanish and it is some kind of a Cankišou pastoral song using cooperation with audience at concerts.
Czech band Cankisou became famous in the Czech Republic and also abroad for its concerts full of energy and wild rhythms. Cankisou mixes influences from various cultures with rock roots and with its rich collection of exotic instruments travels the world from Reunion Island in an Indian ocean to Pakistan.
Cankisou was established at a Christmas party in 1999 by rock musicians. They put together various exotic and common rock instruments and started to explore the world music field which was completely new for them at that time. Cankisou music is based on an old legend about one legged Canki people and the band also learned their language.
Watch the video
Author:
World Music Central News Department
World music news from the editors at World Music Central