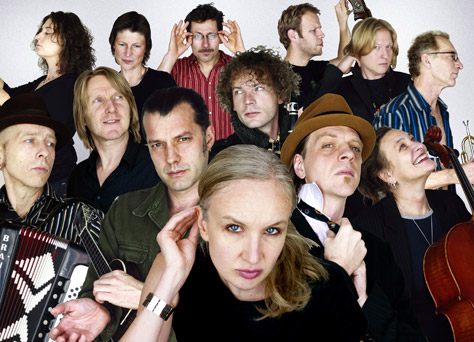 Germany's quirkiest acoustic export 17 Hippies embrace all the planet's unexpected juxtapositions on their new album El Dorado (Buda Musique), their latest and merriest foray into the depths of a suddenly global Berlin and across the eerily connected globe. And American audiences will see them during their September tour which delivers them to New York City, Big Sur/Santa Cruz, Irvine/Los Angeles, and Minneapolis/St. Paul.
"West Berlin was an island. We had this sense that we were from Berlin and we were alone in a way, remote," reflects singer and accordionist Kiki Sauer. "This has changed a lot in the last six or seven years. A lot of people from all over the world have come here to live, people from Eastern Europe, America, France, Spain, and England, who discover that they can do things here they can't do elsewhere. Suddenly, it's a cool town and it's in the middle of Europe, as close to Moscow as it is to Southern Spain."
The new Berlin weaves in and out of the old on songs like "Uz," where lyrics in Frankfurt's age-old dialect get sazzed up with Turkish strings, a sound you could only hear in today's Germany. In "Six Green Bottles," a Romanian melody collides with a Northern English lullaby and lands somewhere near Tempelhof. "In a way, if you draw a line from Romania to Northern England, it just happens you land in Berlin ," laughs ukulele and bouzouki player Christopher Blenkinsop. "We lost many of our traditions in Berlin for obvious historical reasons. We are now finding new traditions, by mixing the sounds of people who come here. That just couldn't happen in Paris or London."
17 Hippies has been foraging for Berlin's new sound for over a decade, when the group started out jamming together at weekly sessions. There were only two little rules: play an instrument you don't normally play, and make sure it's acoustic. (Oh, and don't ask them why 17—the band is currently at 13 members—and why hippies.)
Their influences have always been as unexpected and globetrotting as their choice of instruments. "We don't try to copy the music we hear, but we look at it and then try to find some way to connect between the music in places like China and Moldova and our music, the sounds and tastes that form the backdrop of Berlin ," Sauer explains. "We don't sit and put things together on staff paper. Everything comes together in our selves," everything from Herb Alpert smashing into Romanian dances ("Kaukapol") and Chinese strings boogying with Dr. John (yet to be written but bouncing around in Blenkinsop's head).
The band's freewheeling style, refined over years of playing together and conducting kooky experiments, captures the exuberance of an increasingly connected and connectable world with the lingering melancholy of Germany's hippest city, the sorrows of past wars ("Solitaire") and the grim life of old Hinterhöfe, Berlin's notoriously dark and dank back courtyards ("Stern am Ende der Welt," Star at the End of the World in English).
And the city's lost and lovelorn souls, like the man at the bus stop who inspired "Bound for Morning," silently waiting for someone who never came. As each day went by watchers-on saw his beard grow bedraggled, his plastic bag of books deteriorate, and his clothes wear through. Finally the authorities carried him off. When the Hippies approached an Israeli arranger they met at a concert in Tel Aviv, he declined to work with them on this song, pleading he was in that same place himself, waiting for that same bus.
The feeling was pure Berlin. "This is maybe a Berlin way of saying things, but to be melancholy is also very beautiful," Blenkinsop muses. "It is a nice feeling to have. It's like two sides of a coin. It's sad but also very beautiful, to love someone that way… I think that's very beautiful."
Yet it wasn't until 17 Hippies began striking out on recent tours that have taken them from the Gulf of Mexico to the China Sea that they saw themselves and their city in a whole new light.
Wild and wooly German-language acoustic Berliner pop, it turns out, is a novelty. And the world loves it. "There are few examples of contemporary German musicians who aren't on the classical music circuit. In the rest of the world, real living people from Berlin are something novel. It was odd to find that out," Sauer notes. "Now that we are touring all over the world, we've discovered that what we do works. People relate to it."
In a surprisingly lush mountain town in Algeria , "we played this theater, packed full of young people. Some were in traditional Islamic garb, but most people looked like us. Okay, but with shorter hair," laughs Blenkinsop. "After the gig, we sat backstage drinking tea, as there was no alcohol. After about an hour, we went outside and it started raining, something unheard of there. But the entire audience was outside waiting for us. They wanted to talk with us. That is the amazing emotional thing about why people go to a concert: they want to make a connection. Here were people who know about the outside world from the Internet but because of their local politics don't get to meet many people from elsewhere. And what they all really wanted to know was, 'Will you remember us when you are gone?'"
Traveling through futuristic Chinese cities with island districts that bear an eerie resemblance to New Orleans and through the Gulf backwaters that inspired "Atchafalaya" made the Hippies put aside the bittersweet of Berlin and strike out boldly toward a newer, happier place. Which also happens to be Berlin."You go out in the world and you look and listen and find interesting people. Then you come back home, and sit here and piece it all together. Without thinking, something happens. It's special," Blenkinsop smiles. "It turns out El Dorado is not on the other side of the world where the grass is always greener. It's home. It's Berlin."
17 Hippies, El Dorado, 2009 North American Tour:
Full Tour Schedule
09/01/2009, Tue
New York, NY Le Poisson Rouge
158 Bleecker Street
Tickets: $15.00, Doors Open: 6:30 pm, Show: 7:00 pm
# Ph: 212-505-FISH
09/05/2009, Sat
Irvine, CA Orange County Great Park
Sand Canyon Ave & Marine Way
Show: 8:00 pm
# Tel: (949) 724-OCGP (6247). Free Admission. $8.00 Parking.
09/06/2009, Sun
Big Sur, CA Big Sur Spirit Garden
Highway 1
09/08/2009, Tue
Santa Cruz, CA Moe's Alley
1535 Commercial Way
Tickets: $9/$12, Show: 8:00 pm
# Ph: 813.479.1854
09/10/2009, Thu
Minneapolis, MN The Cedar Cultural Center
416 Cedar Ave S
Tickets: $12.00 Adv., $15.00 day of show., Doors Open: 7:00 pm, Show: 7:30 pm
# Ph:(612-338-2674 ext 2)
09/11/2009, Fri
Minneapolis, MN Arts Midwest
2908 Hennepin Avenue, Suite 200
# Ph: 612.341.0755
Buy the group's recordings: El Dorado, Heimlich, Ifni and Sirba
Photos: 1 – by Andreas Riedel, 2 – by Johannes Raskopp
Author:
World Music Central News Department
World music news from the editors at World Music Central