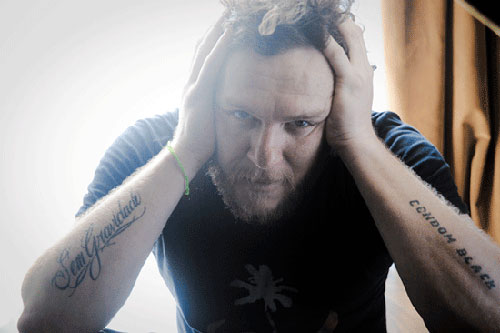 Innovative Brazilian singer, songwriter, multi-instrumentalist and producer Otto, one of the most compelling figures of the new generation of young rock musicians exciting fans in Brazil, returns with his captivating new album "Certa Manha Acordei de Sonhosintranquilo," to be released worldwide Sept. 1 on Nublu Records. With an album title inspired by the Franz Kafka classic "The Metamorphosis," Otto's new album follows suit, mingling rhythms, textures, words and emotions on an album rich in lush orchestrations and new sonic creations-as Otto states, "It's like it is my first album."
Hailing from the northeastern Brazilian state of Pernambuco, and of Dutch and Brazilian descent, Otto was exposed to a myriad of traditional musical rhythms such as maracatu, coco, ciranda and and his work as a producer, and later as a musician, has fused those traditional styles with modern Brazilian flavors such as samba and bossa nova, and more global music genres such as electronica, hip hop, pop, rock and soul. On CERTA, Otto seamlessly takes the listener through his sonic stories-poetry set against folksy rhythms of a small village one moment, and back to the big urban jungle with contemporary beats the next.
Otto's career path is already remarkable-he has been an influential member of the Brazilian musical movement called Manguebeat, widely considered to be considered one of the most important musical movements to emerge in Brazil since the days of Tropicalia, as one of the original members of groundbreaking bands Mundo Livre and Chico Science.-where his rhythm section duties made a huge impact-and as a forward-thinking producer. Brazilian MTV further cemented this young artist's rise with a highly-acclaimed Acustico series special with Otto (2005).
With three critically acclaimed albums already under his belt, 'Samba Pra Burro,' (1998) 'Condom Black,' (2001) and 'Sem Gravidade' (2004), CERTA showcases Otto's continuous maturity as a superb and thoughtful songwriter. Otto co-produced the album with fellow drummer Pupillo, and is joined on the album by a stellar group of musicians such as Pupillo, Dengue on bass and Catatau on guitar, plus special guests vocalists, Grammy winner Julieta Venegas and young Brazilian star CeU.
Otto also dazzled fans and critics at the December 2008 Red, Hot & Rio shows at Brooklyn Academy of Music, alongside Jose Gonzalez, Bebel Gilberto and CÉU. Otto, who has already impressed fans in the NY area with shows at Central park Summerstage, Joe's Pub and BAM'S Next Wave Festival, will return this summer August 17 at Chicago's Millennium Park and August 21 as the Lincoln Center Out-of-Doors concert series.
Buy the CD:
Author:
World Music Central News Department
World music news from the editors at World Music Central