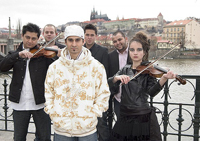 Michael Jackson, Barack Obama, Jiøí Paroubek, Canada, Ziguli, BM DoubleW and other well known figures appear in the new video of Gipsy.cz group. The animated video of the title track 'Reprezent' from the album with same name proves again that the band loves exaggeration, irony, current topics and is not afraid to make fun of themselves. "Not to take anything seriously and little bit of provocation, that's what we consider being one of the main qualities of our group and we tried our best to keep it that way here too…", says Gipsy.cz.
The video made by Pavel Sadílek is based on 2D animation and will show to viewers not only what it means to learn how to rap in Toronto and how it looks when you are illuminated with the ghost of Michael Jackson, but also couple of other eye-opening things.
This year the Gipsy.cz fans had the opportunity to see the band in two other highly stylized videos, Do You Wanna and Aven_Romale, prepared exclusively for Eurovision 09. After this Moscow performance, this year's third video by Gipsy.cz means the return to music represented in last year's album titled Reprezent.
Author:
World Music Central News Department
World music news from the editors at World Music Central