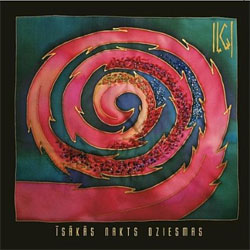 Iļģi
Īsākās nakts dziesmas [Songs of the Shortest Night] (Platforma Music, 2009)
You know what your problem is? You don't have enough Latvian folk in your musical diet. So there's no time to waste before checking out Iļģi and their latest recording Īsākās nakts dziesmas or Songs of the Shortest Night out on Platforma Music. Part of Latvia's post-folk scene, with recent tours of the US and Europe and recording three CDs in the past couple of years, Iļģi is part and parcel of a fresh wave of contemporary folk that offers a fresh and fanciful slant to traditional music. Polishing and reinterpreting the folk songs of Latvia's pagan solstice festival Jāņi, Iļģi's Songs of the Shortest Night is pure celebration. World Music Chart fans will know their work from their CD Ne uz vienu dienu (Not Just For One Day) when they sailed to a strong number 2 on the European chart.
Juicy with clever composition and deft instrumentation, the Songs of the Shortest Night is adorned with a freshly modern folk sound and bright vocals. Tracks like the smooth silky opening number "Visu gadu Jānīts nāca," ripe with the kokles and bagpipe or the plumy "Jāņu mātes pagalmā" with its tapping tapping rhythm and harmonized vocals make Songs of the Shortest Night positively captivating.
The drum heavy and bagpipe saturated "Sit, Jānīti, vara bungas" overflows of fun with its dizzy turns of guitar and violin. "Saule brida miglājosi" goes down smooth with flashy guitar and gīga lines set to a low down rock beat, laced with sweetly flavored violin and kokles sections. Iļģi finesses the listener with other gems like dreamy "Labvakari, rudzu lauks," the deliciously jazzy "Tā sacīja, tā bij' tiesa" and the delightful folk number "Jāņu dancis," a track that is definitely danceable, although I think you'd probably should have some baskets of flowers to toss as you jig to this sparkling number.
Stylish and energetic, Iļģi serves up a sound that is smart and savvy and Songs of the Shortest Night is exactly where you'd want post-folk music to take you.
Buy Īsākās nakts dziesmas [Songs of the Shortest Night]
Author:
TJ Nelson
TJ Nelson is a regular CD reviewer and editor at World Music Central. She is also a fiction writer. Check out her latest book, Chasing Athena's Shadow.
Set in Pineboro, North Carolina, Chasing Athena's Shadow follows the adventures of Grace, an adult literacy teacher, as she seeks to solve a long forgotten family mystery. Her charmingly dysfunctional family is of little help in her quest. Along with her best friends, an attractive Mexican teacher and an amiable gay chef, Grace must find the one fading memory that holds the key to why Grace's great-grandmother, Athena, shot her husband on the courthouse steps in 1931.
Traversing the line between the Old South and New South, Grace will have to dig into the past to uncover Athena's true crime.