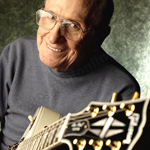 Guitarist and inventor, known throughout the musical world for changing the very sound of music with the electric guitar and innovative recording techniques, Les Paul died on Thursday, August 13, 2009 at a White Plains, New York hospital from complications from pneumonia. He was 94.
Born Lester William Polfuss on June 9, 1915, Les Paul, as he later became known, changed music forever with his 1941 invention of "The Log," a modified, solid-bodied guitar that would eventually produce the sounds of rock and roll music. His multitrack recording technique, as well as delaying effects, overdubbing and phasing effects, opened up a myriad of possibilities for recorded music.
Mr. Paul first made a name for himself in 1938 with his New York Les Paul Trio with fellow members Jim Atkins (brother to Chet Atkins) and Ernie Newton. The trio soon landed a slot on the radio show Fred Waring's Pennsylvanians. Paul moved to California in 1943 where he started another jazz trio. The Les Paul trio played with the likes of Nat King Cole, Bing Crosby and The Andrews Sisters, as well as recording for the Decca label.
It was the Capitol albums with his then wife Mary Ford recorded harmonizing with herself which cemented Paul's stamp on recorded music with hits like "Bye Bye Blues," "How High the Moon," "The World Is Waiting for the Sunrise" and "Vaya Con Dios." The overdubbing and close mike techniques used on these recordings would soon hold sway over an entire industry.
Mr. Paul's career includes 40 albums, three Grammy awards, inductions into the Grammy Hall of Fame, the Rock and Roll Hall of Fame and the National Inventors Hall of Fame. The Les Paul series of guitars produced by Gibson Guitars has become trademark of musicians like Al DiMeola, Eric Clapton, Jimmy Page and Coldplay's Johnny Buckland.
Neil Portnow, president and CEO of The Recording Academy, responded to the news of Mr. Paul's death by saying, "…Les Paul was a musical mastermind whose innovations in electric guitar and recorded music are unparalleled. …His career and contributions to popular music will forever be celebrated, and will continue to influence future generations of musicians. His magnetic charm and sunny disposition matched his incredible skill set, and he will always be remembered with great fondness, humility and respect. The music industry has lost a true innovator and legend."
Mr. Paul is survived by companion Arlene Palmer, three sons and a daughter from his two marriages, five grandchildren and five great-grandchildren.
Author:
World Music Central News Department
World music news from the editors at World Music Central