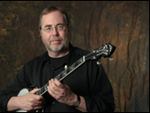 Banjo Virtuoso Tony Trischka opened his online banjo school today: the Tony Trischka School of Banjo. The site integrates Tony's unparalleled 40+ years of playing and teaching banjo with the most advanced technology in online video exchange lessons. The result is what the press release calls the world's most powerful online banjo school. Tony's site also boasts a complete set of social networking features, giving the new school a second identity as a worldwide community for banjo players–a powerful social network just for banjo enthusiasts.
Responding to an extraordinary worldwide demand for an online subscription-based school for learning banjo, Tony partnered with ArtistWorks Inc., producers of the video technology used on the site. Tony comments, "Drawing from my career of teaching banjo, I've recorded over 155 lessons on beginning, intermediate and advanced banjo playing on high definition video. Students from any country in the world can study the self-paced lessons. When ready, they record themselves practicing the lesson and upload it using a very simple, but fast video system provided on the site. With ArtistWork's record-and-upload-anywhere video technology I can quickly record my response to the student while I'm on the road or at home."
The Tony Trischka School of Banjo site also breaks ground in musician social networking. Built into the site are rich social media features for student members: a Shout-Out board to give quick comments to all students on the home base page, an expandable Forum for announcements and conversations and Chat for real-time instant messaging amongst members. Tony says, "My site's social networking features make it the perfect environment for worldwide banjo students to share the joy, camaraderie and history of banjo playing and roots traditions. It's as if banjo playing is getting a new historical dimension."
More at: www.tonybanjo.com
Author:
World Music Central News Department
World music news from the editors at World Music Central