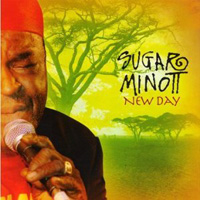 Sugar Minott
New Day (Stop, Look and Listen Records SLLROO2, 2008)
Singer, songwriter, producer and promoter of young talent, Jamaica's Lincoln "Sugar" Minott has been creating quality reggae for decades. He was just a kid when he started out, and the 50-something Minott can still sound like a love struck youth on a song of longing like "Show me a Sign" from his latest album New Day. Of course his airy, slightly rough crooning has always been a good fit for songs that address larger issues, and this disc has those as well. And it's of no consequence that a few of the tracks veer closer to R+B than reggae, 'cause Minott always takes the uplifting path that some of his contemporaries have been known to stray from.
He's joined by the ever-soulful Toots Hibbert on the title track, gives a bit of a blues growl to the swampy "Just Chill," revisits a genre he helped define with "Lover's Rock" and generally sounds like he's still fully invested not only in keeping the spirit of reggae strong but taking it to a new level or two along the way.
Recorded in England, Jamaica and the U.S. and making use of backing tracks both digitally and organically rendered, the album has an international feel that's kept grounded by Sugar's always warm and intimate vocals. In addition to the many good works he's already accomplished, Minott shows he's still got a lot to sing about (as evidenced lyrically in the opening "Gettin' it On" with guest deejays Josey Wales and Ranking Trevor) and the means to urge anyone within earshot to take heed or simply share in some good vibes.
Buy the CD:
Author:
Tom Orr
Tom Orr is a California-based writer whose talent and mental stability are of an equally questionable nature. His hobbies include ignoring trends, striking dramatic poses in front of his ever-tolerant wife and watching helplessly as his kids surpass him in all desirable traits.