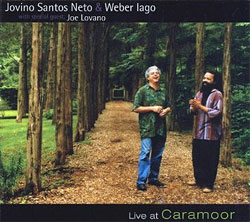 Jovino Santos Neto & Weber Iago
"Live at Caramoor" (Adventure Music, 2009)
Taken from a live presentation at Caramoor Jazz Festival in Katonah, New York, in July 2007, Santos Neto and Weber Iago join their pianos and play individually, transporting us to a space of serene sweetness and balanced tranquility. In a program with nine pieces, Iago opens the piano night with a self penned piece titled "Navegante.", which summarizes a broad musical vision of Brazil using classical music expressions. In "Alone together", his left hand is visibly more rhythmic and you perceive a greater narrative sense.
Santos Neto, who was the pianist of the fabulous Hermeto Pascual during fifteen years, forges ahead. Precisely penned by Pascoal, "Balaio" is a piece that Neto embraces with romantic flutter and expansive vision. Pieces of jazz standards fall into place, including the cut "As time goes by," popularized by the movie Casablanca and the emblematic "Brasil" .
If Iago is introspective, Santos is exuberant, immersed in textures of robust sound. In "Desafinado", however, Jovino picks up the harmonica, which is introduced at a high volume, very noisy, breaking the serenity of the recording.
The album closes with "Wave", a classic of classics; here both pianists take turns in an evocative and festive way, roused, this time, by the tenor sax of Joe Lovano, the only guest that night.
Buy the CD: