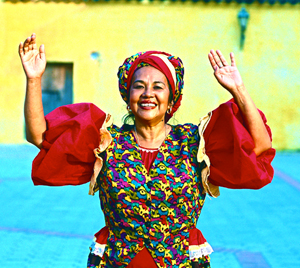 On Friday, August 14 at Noon & 8 PM, the classic coastal music of Colombia comes alive in Toto la Momposina's energetic stage performance. Handclapping, guitarron, gaita (a cactus wood flute with a bagpipe sound) – all are augmented with pulsating cumbia style sounds, touches of Cuban son, Afro Latin beats and indigenous Indian music, to deliver hypnotic polyrhythmic traditional sounds.
Saturday, August 15 at 8 PM it's Zap Mama . Known for stretching the limits of the human voice, Zap Mama's music reflects and embraces the infectious beats of African rhythm. A Belgian-based musical group led by the sensuous voice of Marie Daulne, the group has worked with an expansive collection of artists including The Roots, Erykah Badu, Common, Talib Kweli and Ladysmith Black Mambazo. The evening will be filled with an exuberant potpourri of styles and influences as Zap Mama fuses African instrumentation, R&B and hip-hop.
Zap Mama replaces Rokia Traore who was originally scheduled for this date.
on the Main Watercourt Stage
Friday, August 14 at Noon & 8 PM
Saturday, August 15 at 8 PM
Recordings available:
In North America: La Candela Viva by Toto La Momposina; and ReCreation, Supermoon, Ancestry in Progress, Adventures in Afropea, Vol. 1, A Ma Zone, Sabsylma by Zap Mama
In Europe: ReCreation, Sabsylma, Adventures in Afropea, Vol. 1, Ancestry in Progress, Zap Mama, Supermoon and 7 by Zap Mama
Author:
World Music Central News Department
World music news from the editors at World Music Central