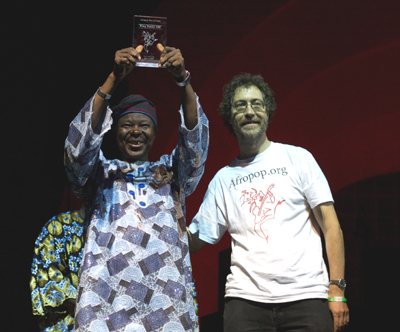 In one of the few ongoing world music awards ceremonies in the United States of America, King Sunny Adé, Nigeria's popular entertainer and maestro of juju big band dance music, was inducted into the Afropop Hall of Fame at Celebrate Brooklyn's African Festival on Saturday, July 18th. Afropop Producer Sean Barlow did the honors of inducting "Chairman" (what Adé's friends and colleagues call him).
Barlow explained to the 10,000 enthusiastic fans at Celebrate Brooklyn that the criteria for selection were contemporary African artists who not only excelled artistically but who also played a big role in connecting American audiences to Africa and African culture. He said previous inductees included Youssou N'Dour, Oumou Sangare, Angelique Kidjo, and Thomas Mapfumo. He went on to say that before Youssou and Angelique and others made their U.S. careers, there was King Sunny Adé, opening the way.
When King Sunny Ade held the award itself, he smiled broadly and held it high over his head saying, "Thank you for the honor of giving me this award. I dedicate it to Michael Jackson" with a tear in his eye. He then proceeded to center stage singing an a cappella song in Yoruba before breaking into a fast all band riff with Chairman on rhythm guitar and his two twin dancers shaking it and beaming.
The Afropop Hall of Fame honors African artists not only for their exceptional artistry but for the key role they have played in connecting American audiences to Africa and African culture. Past inductees include Youssou N Dour, Angelique Kidjo, Baaba Maal, Oumou Sangare, Habib Koite,
Harry Belafonte, Vusi Mahlasela, Thomas Mapfumo and the Mahotella Queens.
Afropop honored King Sunny Adé (a.k.a. Chairman to friends) for opening the way to a host of major African artists with his ground-breaking U.S. tours in the early 80s and his landmark recordings of that era, notably his international debut Juju Music (Island, 1982). King Sunny Adé is an architect of Nigeria s influential juju style of big-band dance music. In concert, the singer, guitarist and bandleader fronted the 20-strong African Beats as they spun out an expansive aural tapestry of interlaced guitars, talking drums, and vocal choruses performed by singers with elegant dance moves. Cool and regal at center stage, the charismatic King Sunny Adé directed the action with a turn of his head or a tip of his electric guitar.
King Sunny Adé gave many Americans their first direct encounter with the awesome power of contemporary African music. This includes Sean Barlow, the producer of public rAdéo s nationally syndicated Afropop Worldwide hosted by Georges Collinet. The program debuted nationally in 1988, and can be heard locally on RAdéo New York 91.5 FM Monday-Saturdays at 11 pm. King Sunny Adé changed my life, recalls Barlow. Without him, Afropop Worldwide might never have been born.
Recalling his legendary 1982-83 tour, Adé told Afropop, "Back then I was a stranger. But now we are all part of a family."
Buy his albums:
Watch a video of the induction here.
Author:
World Music Central News Department
World music news from the editors at World Music Central