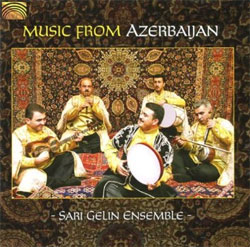 Sari Gelin Ensemble
Music from Azerbaijan (ARC Music, 2009)
Elegantly intricate as the most extravagantly patterned embroidery, the CD Music from Azerbaijan by the Sari Gelin Ensemble, out on ARC Music, ensnares the listener in an unfolding extraordinary journey of the musical traditions of Azerbaijan. Steeped in the musical tradition of Azerbaijan's mugham, the Sari Gelin Ensemble mesmerizes with technical mastery, as well as a passion that rises to the surface of each track of Music from Azerbaijan. Entrancing the listener with a series of shifting and evolving mughams, or traditional Azerbaijani classical compositions, and sung poetry, Music from Azerbaijan weaves an exotic web that hard to resist.
Singer Gochaq Askerov, tar musician Aligha Sadiyev, kamancha player Elshan Mansurov, naqara musician Kamran Kerimov and Shirzad Fataliyev who plays balaban and zurna, each respected in the art of the mugham, make up the Sari Gelin Ensemble. It is their expertise in the musical traditions of Azerbaijan that turns theses extraordinary compositions into a priceless look into an inexpressibly lovely sample of this centuries old musical heritage.
Opening with the haunting "Mirza Husayn Segah," the ensemble works through a tasnif, or vocal-instrumental melody, a mugham and another tasnif, centered around a vocal ghazal by the Azerbaijani poet Molla Panah Vagif. Stunning listeners with the hypnotic "Qaraguile" and moving on to the hypnotic "Sari Gelin," based on a popular Azerbaijani folk song, the ensemble packs each track with sublime musical lines and richly worked vocals. "Heydarbaba" features the music by Azerbaijani composer Bakhtiyar Kerimov and the poetry of contemporary poet Shahriyar, while "Zarbi Semayi-Shams" is centered around the poetry of Seyyid Azim Shirvani, a classical Azerbaijani poet from the 19th century. "Shusgter Rangi," a rang, or traditional instrumental metered piece, closes the CD with deft florishes of tar and kamancha.
The Music of Azerbaijan weaves a truly exotic spell with lacy flourishes of tar, kamanche and the naqara against poignant vocals and the ever-evocative balaban, whose strains rise up like a wisp of smoke. The compositions are evocative and the musical mastery is stunning.
Buy the CD:
Author:
TJ Nelson
TJ Nelson is a regular CD reviewer and editor at World Music Central. She is also a fiction writer. Check out her latest book, Chasing Athena's Shadow.
Set in Pineboro, North Carolina, Chasing Athena's Shadow follows the adventures of Grace, an adult literacy teacher, as she seeks to solve a long forgotten family mystery. Her charmingly dysfunctional family is of little help in her quest. Along with her best friends, an attractive Mexican teacher and an amiable gay chef, Grace must find the one fading memory that holds the key to why Grace's great-grandmother, Athena, shot her husband on the courthouse steps in 1931.
Traversing the line between the Old South and New South, Grace will have to dig into the past to uncover Athena's true crime.