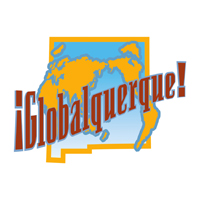 Bluegrass mandolin monsters, Native American Peyote singers and Brazilian hoedowns join the cultural mash-up at the Fifth Annual ¡Globalquerque! Celebrating five years of mixing global music stars and native legends, New Mexico's Annual Celebration of World Music and Culture is back better than ever.
The Southwest's biggest world music party gets started September 25 and continues through September 26, 2009 in Albuquerque, New Mexico, at the beautiful National Hispanic Cultural Center (NHCC) along the banks of the Rio Grande River.
Newly added to this year's line-up is two-time Grammy winning Native American superstar Robert Mirabal and bluegrass legends Doyle Lawson &r Robert Mirabal Quicksilver. Also just confirmed are Brazilian/American roots radicals Nation Beat, Afro-Peruvian electronica ensemble Novalima , Cameroon's new soul sensation Blick Bassy, Cape Verde's astounding diva Maria De Barros, and the exquisite voice of Persian singer Mamak Khadem. The festival also will feature the Celtic-Yiddish collaboration of Klezmatics' vocalist Lorin Sklamberg with Irish songstress Susan McKeown, in their fascinating new project, Saints & Tzadiks.
A Southwest spotlight is always a ¡Globalquerque! highlight, featuring music of the first Americans. This year brings New Mexico's own Robert Mirabal of the Taos Pueblo, with his electric band tapping into a planetary pulse; the mesmerizing Peyote prayer songs of Cheevers Toppah and Kevin Yazzie, from the Diné and Kiowa nations; the earthshaking Los Angeles-based Latina-rocker CAVA; and one of Veracruz, Mexico's most inventive son jaracho groups, Mono Blanco (White Monkey). Add to the mix Ghana's electrifying Afro-jazz dance troupe Kusun Ensemble, Hungary's Little Cow churning Balkan, Romani (gypsy), ska and rock, and India's visionary fusion ensemble Indian Ocean, blending classical ragas with jazz and rock, and it's all part of what's in store at the 2009 ¡Globalquerque!
Information on tickets and vacation packages, including rooms and tickets, can be found at www.globalquerque.com. Ticket information is also available at the NHCC box office: (505) 724-4771. Advance tickets range from $15 to $50 for a weekend pass, and hotel packages are available for $109 a night, including two ¡Globalquerque! tickets and breakfast.
2009 Lineup:
Blick Bassy (Cameroon)
Cava (U.S.)
Maria de Barros (Cape Verde – pictured))
Indian Ocean (India)
Mamak Khadem (Iran)
Kusun Ensemble (Ghana)
Doyle Lawson & Quicksilver (U.S.)
Little Cow (Hungary)
Robert Mirabal (Taos Pueblo)
Mono Blanco (Mexico)
Nation Beat (Brazil/U.S.)
Novalima (Peru)
Saints & Tzadiks: Susan McKeown & Lorin Sklamberg (Irish/Yiddish)
Toppah & Yazzie (Diné/Kiowa)
Väsen with Darol Anger & Mike Marshall (Sweden/U.S.)
Author:
World Music Central News Department
World music news from the editors at World Music Central