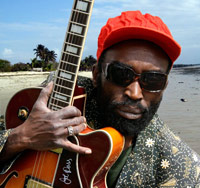 Ras Nas is to tour six towns in Norway in October-November of 2009, bringing reggae and African music closer to a wider Norwegian audience. "It feels good to get a chance to spread the music once again," says Ras Nas aka Nasibu Mwanukuzi whose latest CD "Dar-es-Salaam" has received rave reviews by local as well international music critics.
Ras Nas, a Tanzanian musician and poet based in Oslo, blends reggae and afropop with a dash of poetry. His lyrics are in both Swahili and English. The tour will include Kongsberg, Drammen, Fredrikstad, Arendal, Oslo and Trondheim.
Ras Nas' line up consists of musicians from Congo Brazzaville, Ivory Coast, Norway and Sweden.
For more information check out www.rasnas.kongoi.com and www.twitter.com/rasnas
Tour dates:
23rd October – Kongsberg
24th October – Drammen
29th October – Fredrikstad
30th October – Arendal
31st October – Oslo
06th November – Trondheim (Transform Festival)