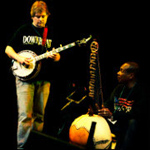 The Pacific Jazz Institute at Dimitriou's Jazz Alley presents premier banjo sensation Béla Fleck joined by one of the most important musicians in Africa, kora player, Toumani Diabaté for two nights and four shows. Set times Monday and Tuesday, August 10 – 11, 2009, are at 7:30pm & 9:30pm. Doors open at 6:00pm. This is a pre-sale show, therefore a purchase is required by phone at the time the reservation is made.
Eight-time Grammy Award winner Béla Fleck was fascinated with the banjo from an early age, but his teachers kept pushing him to play other instruments. Luckily, he kept up with the banjo — when he wasn't being forced to sing tenor or play the French horn. This richly diverse background has earned him Grammy nominations in more different categories than anyone in Grammy history – including jazz, country, classical, pop, bluegrass, and spoken word. Through tenures with Newgrass Revival, The Flecktones, Strength in Numbers, and numerous ongoing collaborations, Béla has become one of the premiere banjo players in the world. The documentary "Throw Down Your Heart" followed Béla's journey through Uganda, Tanzania, The Gambia, and Mali as he explored the African roots of the banjo.
Béla will be joined by one of the most important musicians in Africa, Toumani Diabaté. Toumani was born in Bamako, the capital of Mali, in 1965 into a family of exceptional griots (hereditary musician/historian caste); his research shows 71 generations of kora players from father to son. The most notable was his father, Sidiki Diabaté (c. 1922-96), a kora player of legendary fame in West Africa.
Toumani has participated in many other recording projects both at home and abroad: he appears on Ali Farka Touré's eponymous debut album for World Circuit; he toured with Salif Keita and appears on both his acclaimed album Papa and his latest release Mbemba; he recorded the album Kulanjan with Taj Mahal; he was part of Damon Albarn's Mali Music project; he is featured on Kasse Mady Diabaté's 2004 Grammy nominated album Kassi Kasse, and in 2007 he featured on the track 'Hope' on Björk's album Volta leading to an inspired guest appearance on her set at the Glastonbury Festival.
The first release of Toumani's work from the World Circuit sessions was the duets album In the Heart of the Moon recorded with the great Ali Farka Touré, won the Best Traditional World Music Album GRAMMY Award. Toumani is an artist of exceptional virtuosity and creativity – someone who knows that the kora can rival the world's greatest instruments.
This is a pre-sale show with reserved seating. Reservations can be made by phoning Jazz Alley at 206.441.9729 or through Ticketmaster at www.ticketmaster.com. All purchases are non-refundable and non-exchangeable. Vouchers, donated gift certificates, student, senior and military discounts, children under 12 free discounts and 2 for 1 cards are not applicable for this show. All shows are all ages. The Pacific Jazz Institute does not discriminate on the basis of race, color, national or ethnic origin.
COST: $35.00
The Pacific Jazz Institute at Dimitriou's Jazz Alley
2033 6th Avenue, Seattle, WA, 98121
www.jazzalley.com
Author:
World Music Central News Department
World music news from the editors at World Music Central