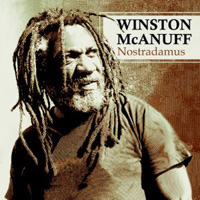 Winston McAnuff – Nostradamus (Makafresh/Makasound, 2008)
Merger – Exiles in a Babylon (Makasound, 2009)
Takana Zion – Rappel a l'Ordre (Makafresh/Makasound, 2009)
Niominka Bi and N'diaxas Band – Shalom Salam (Makafresh/Makasound, 2009)
Though they had a hand in releasing the wonderful debut album by Burkina Faso's rising singer/songwriter Victor Deme, the French label Makasound and their affiliate Makafresh specialize in reggae. In addition to their acclaimed Inna de Yard series of intimate, acoustic live albums by various [wiki:reggae] stars, Makasound's got an impressive roster of plugged-in talent, representing not only reggae's Jamaican homeland but going beyond both geographically and historically.
A lengthy singing career and several fine albums haven't exactly made Jamaica's Winston McAnuff a household name, even in reggae households. He's got more than enough going for him to command attention, though, including a gruff, reedy voice ideal for the prophetic pronouncements of his latest CD, Nostradamus. Cautionary tales like "Vain Imagining," "The Bait" and the title track are sternly melodic examinations of mankind's various follies, while the scatty, acoustic bounce of "Love is the Song I Sing" and playful, accordion-laced "Mix Up Moods" show McAnuff applying a lighter touch with equal success. As the album's namesake prognosticator could've predicted, this is a well-rounded, highly enjoyable reggae disc.< Until I latched on to their Exiles in a Babylon release, I was completely unfamiliar with Merger, a '70s band of U.K.-based Jamaicans and Ghanaians who fused reggae rhythms with African beats, jazz, soul, rock and funk. Most of this long-lost album was recorded in London in 1977, with a couple of tracks laid in Jamaica in 1980, and the result is hybrid reggae sizzling with energy, inspiration and a wall of sound that retains reggae's basic simplicity and still jam-packs it full of delights that your mind will embrace and your feet will dance to. Favorable comparisons to the best works of such bands as Third World and Aswad could be made, but the excellence here is really one of a kind. Highly recommended. Guinea's Takana Zion is clearly a voice to contend with in African reggae, as his CD Rappel a l'Ordre shows. Jolting, horn-laced rhythms barely reign in the charismatic soar of Zion's multilingual vocals on songs that combine the punch of Steel Pulse, the pop hooks of Morgan Heritage and Alpha Blondy's international reach. Very impressive. Also poised to take his place among the greats of African reggae is Niominka Bi, born in Senegal and based in France. He's got a voice that's more griot-ish than most reggae singers, and he achieves spine-tingling results with it on original material like the Middle Eastern-textured opener "Shalom," a couple of takes on the Congos' classic "Fisherman" (one utilizing the original Lee Perry rhythm track), and such adventurous songs as "Yaye" (best described as Afro-ska) and "Amine" (which melds Senegalese m'balax with Jamaican rocksteady). Some of the tracks recall the reggae side of Senegal's Toure Kunda, though once again what we have here is a singular talent possessing the means to take reggae to new heights and depths.
Author:
Tom Orr
Tom Orr is a California-based writer whose talent and mental stability are of an equally questionable nature. His hobbies include ignoring trends, striking dramatic poses in front of his ever-tolerant wife and watching helplessly as his kids surpass him in all desirable traits.