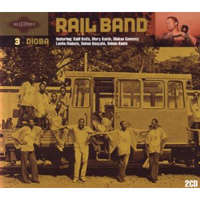 Rail Band
Belle Epoque, Vol. 3: Dioba (Sterns Africa STCD 3043-44)
This third and final double CD spotlighting the 1970-1983 output of Mali's legendary Rail Band is, as expected, another generous helping of the musical Belle Epoque noted on its front cover. Hired to entertain patrons of various stripes at the Buffet Hotel de la Gare de Bamako, the major train station and center of after-hours fun and business deals in Mali's capital city, the band knew from the start that versatility was key. Such versatility is on ample display here, not only in the form of tracks that sought to modernize West African traditional music but also through greater and greater borrowing from other forms (even rock and roll, as evidenced by the searing guitar intro to "Wale Numa Lombaliya" on the first disc)
Because the order of the songs is not chronological, you get a sense of a band that was seemingly everything at once, nailing Latin-laced dance tunes, Africanized soul and funk, songs that bespoke Mali's development as a post-colonial nation, extended pieces showcasing the level of musicianship within the group and whatever else they could rise to. But despite the skip-around approach as far as songs and years goes, the band can be heard evolving in such respects as the increased prominence and skillfulness of Djelimady Tounkara's lead guitar, the growing influence of Afropop, highlife and such, and a front line of vocalists that kept going strong even after the departures of Salif Keita and Mory Kante (arguably the greatest but certainly the most famous talents to pass through the Rail Band's ranks), both of whom are featured on era-defining early work here.
The Rail Band's career certainly didn't end after 1983, but the brilliance they showed in their first baker's dozen years make this collection and its predecessors absolute musts for lovers of classic African music.
Buy the recording:
Author:
Tom Orr
Tom Orr is a California-based writer whose talent and mental stability are of an equally questionable nature. His hobbies include ignoring trends, striking dramatic poses in front of his ever-tolerant wife and watching helplessly as his kids surpass him in all desirable traits.