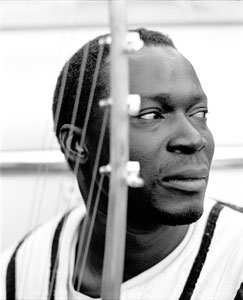 Lincoln Center Festival 09 will present Afro Blues for the 21st Century on July 21, a concert that showcases artists whose forward-sounding, 21st century sound fuses African roots with American blues, retro-rock and electronica. On the double bill, Justin Adams and Juldeh Camara will perform their scintillating brand of percussive Afro-Blues, combining Adams' masterful guitar-playing with Camara's ritti (a one-stringed African fiddle) and mesmerizing vocals in a global sound that at its core is purely African, but in the delivery weaves together everything from blues guitar riffs, Irish jigs, dub, and Polish polkas, to jazz grooves, snarling rock guitar and funk. International star Issa Bagayogo-a master of traditional West African instruments, focusing on the kamele n'goni (a Malian lute)-adventurously mixes Malian tradition with modern instruments and electronics to create energetic, upbeat dance music in a style uniquely his own.
With an encyclopedic knowledge of blues and African music developed through 20 years of performing, guitarist and producer Justin Adams has been called "the Ry Cooder of the UK," offsetting centuries-old rhythms against his prowling riffs that pay homage to everyone from Bo Diddley via the Clash to Captain Beefheart. His many collaborations include Robert Plant's band The Strange Sensation, Brian Eno, Jah Wobble, LO'JO, Sinead O'Connor, Natacha Atlas, and musicians from African, Arabic and Irish traditions. He has most recently worked with Juldeh Camara, a Gambian griot (poet/vocalist) and master musician who plays the ritti, a one- stringed fiddle.
Juldeh appeared on a CD of traditional Gambian music that was a favorite of Justin, and Juldeh was impressed by trance-like rhythms given modern vitality on Justin's Desert Road CD. Their award-winning 2007 album, Soul Science, envisioned a modern world where ancient spirits are enlivened by the crackle of rock and roll electricity. Said flyglobalmusic.com of the recording, "Put Justin Adams's Bo Diddley-meets-buzzsaw blues guitar with Juldeh Camara's hyperactive single-string violin playing and you've got one of the most exhilarating boundary crossing releases of the year."
Issa Bagayogo, nicknamed "Techno-Issa" at home in Mali, continually breaks new ground with his unique blend of Malian roots music with Western dance floor techno beats. Since the music of Mali is the source of much of the world's popular music (e.g. the blues, R&B, soul, rock, and funk), Issa's musical offerings are like an introduction to a great-grandparent you didn't know was still alive. This perceptive vocalist/composer continues to probe the depths of that river of music pouring forth from West Africa, feeding the many tributaries that emerge in North America as rap, techno, dub, soul, blues and funk. "…he often breaks out in a kind of speech-song that sounds like a distant ancestor of rap" (Six Degrees Records). The result is a fully evolved music that feels like a brand new culture. He has recorded four best-selling albums that have drawn comparisons to great Malian musicians such as Ali Farka Touré and Toumani Diabaté. The latest release, Mali Koura, pushes an intense rhythmic groove with jazz-inflected horns and flute that pulls everyone out of their seats onto the dance floor with Issa's irresistible signature sound.
A double bill
Justin Adams and Juldeh Camara
Issa Bagayogo
2 hours, one intermission
July 21 at 8:00
Alice Tully Hall, Starr Theater, Broadway and 65th Street
Tickets: $20, 30
Author:
World Music Central News Department
World music news from the editors at World Music Central